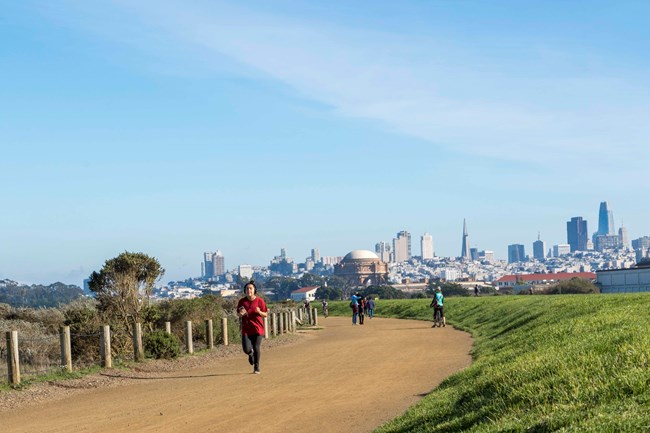 Trail Overview
Distance:
2 mi (3.2 km)
Elevation Gain:
10ft
Time:
1 hour
Trailhead:
Crissy Field/East Beach
Slope:
Avg 1% Max 5%
Side Slope:
Avg 2% Max 5%
Width:
Avg 120" Min 60"
Trail Surface:
Compacted Natural Material, Boardwalk, Asphalt
Most all the pathways throughout Crissy Field are generally level making it a nice place to take a leisurely stroll while enjoying vast views of the San Francisco Bay, Golden Gate Bridge and marsh habitat. East Beach offers a large universally accessible picnic site with several family and group picnic units which include BBQ grills. East Beach also offers a seasonal beach mat and two beach wheelchairs. Accessible parking and restrooms are available at either East Beach or West Bluff. You may access the Crissy Field Promenade from either location. The promenade is made up of a compacted decomposed granite. While walking along the promenade you will encounter a couple raised boardwalks which plank the beach and provide for viewing opportunities closer to the bay. You will also encounter pedestrian bridge near East Beach which spans the marsh inlet. The surface of this bridge is wood. There is a raised boardwalk that takes you into the marsh; entrance gates are provided near the East Beach picnic area and along Mason St. You may choose to walk back along the promenade or create a loop by walking along Mason St. The trail along Mason Street is paved asphalt. There are dedicated bicycle and pedestrian lanes. Completing this loop is approximately 2 miles. The loop described is part of the Bay Trail.