Batteries Loop Trail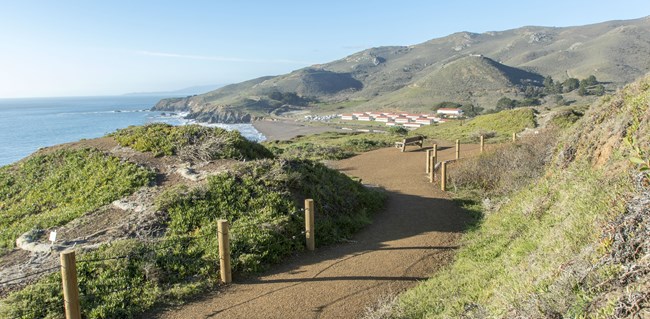 Trail Overview
Distance:
0.5 mi (0.8 km)
Elevation Gain:
60 ft
Time:
1 hour
Trailhead:
Battery Alexander
Slope:
Avg 4.8% Max 12%
Side Slope:
Avg 2.5% Max 5%
Width:
Avg 60" Min 60"
Trail Surface:
Compacted Natural Material
Originally constructed as a jeep road between the gun batteries this trail has been narrowed to accommodate changes in use. The trail provides access to and allows for exploration of Battery Smith-Guthrie, Battery O'rorke and Battery Alexander. The loop can be completed in either direction from Battery Alexander. Along the trail one can expect to see views of the Pacific, waves crashing upon Rodeo Beach and if the weather is particularly fine, one can even make out the Faralonnes, some 30 miles distant.
Trail Profile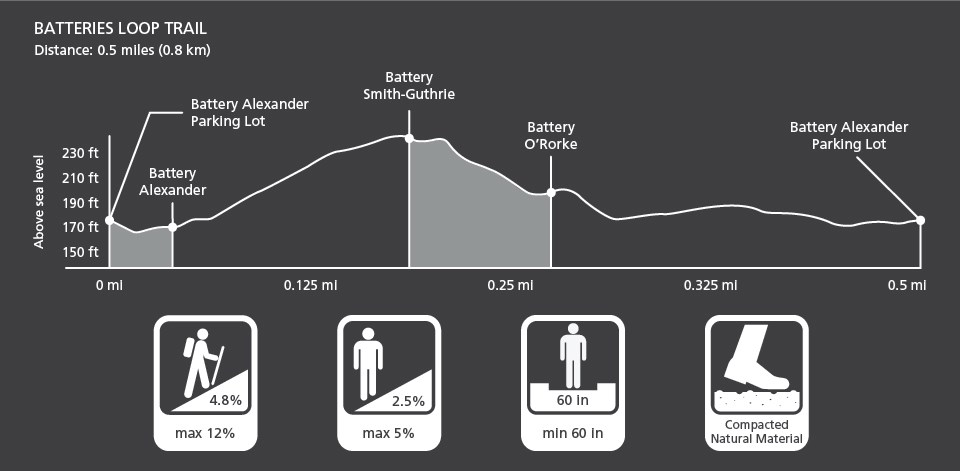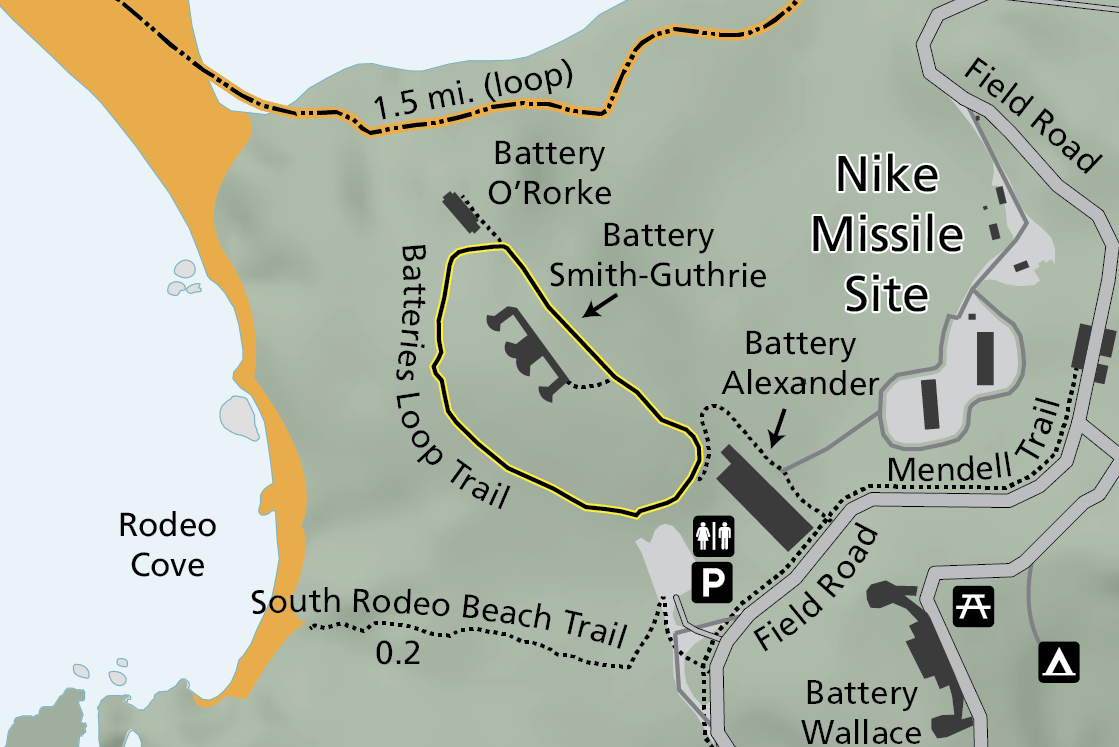 Safety
Stay on the established trail. Keep an eye out for poison oak
Observe warning signs and railings—these exist for your safety. Cliffs along the bluffs can be unstable and hazardous.
Dress in layers and be prepared for varying weather conditions. Sunny days along the coast can turn windy, foggy, and cold very fast.
Parking
There is trailhead parking at Battery Alexander including two ADA accessible spots.
Bathrooms
An accessible vault toilet can be found at the Battery Alexander parking area. Additional restrooms can be found at Field Road.
Water
Drinking water is not available along the trail. Avoid becoming dehydrated or experiencing heat exhaustion. Drink plenty and drink often; pace yourself; rest in the shade; and eat salty snacks.
Trail Etiquette
Leashed dogs are permitted on the Batteries Loop Trail. Please remain on the established trail. Off-trail travel harms plants and causes erosion. Keep your food within arm's reach at all timesand do not feed the wildlife. Carry out all trash and food waste (fruit peels, shells, etc.).
Last updated: April 22, 2022