Public Libraries to Public Lands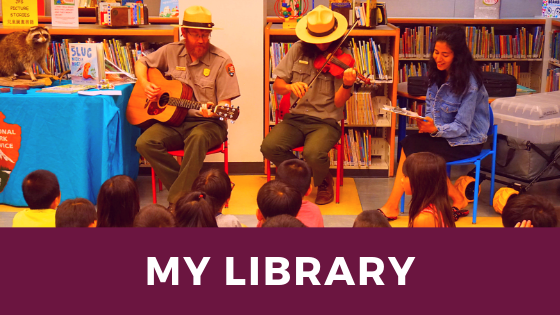 Stay tuned for 2019 Summer Library Programs
Below are last year's library programs to serve as an example of the programs and events we offer. We appreciate your patience as our partnership develops the new schedule for 2019.
The National Park Service at Golden Gate National Recreation Area has partnered with Golden Gate National Parks Conservancy, the San Francisco Public Library, Marin County Free Library, and the San Rafael Library to create free programs and trips to the parks to better engage local communities with their public libraries and public lands.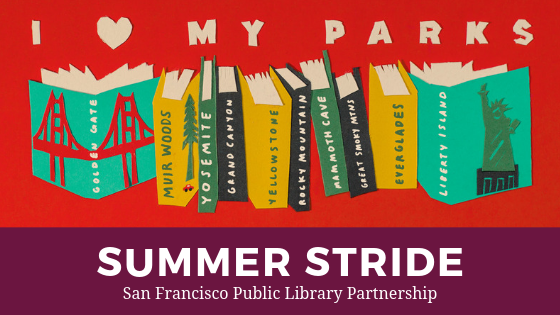 Library Ranger Talks
Meet national park rangers at your branch library to hear amazing stories of San Francisco and the Bay area, and enjoy hands-on activities for the whole family. Ranger Talks are themed for specific age groups, taking place all summer at different times and locations:
Creature Features | Ages 5 - 8
The more you look, the more you see. Join us for ranger-led story sharing and an interactive experienve in tracking animal foot prints.
Fur, Feet & Feathers | All Ages
Learn about local animals and plants with a park ranger, through stories, songs, hands-on activities and show-and-tell. A playful interactive experience for children and their caregivers of all ages.
#FoodieRangers | Ages 9 - 12
Join a park ranger for a yummy activity, and learn how the food found in national parks can also benefit your body and health.

For complete Ranger Talk program schedule and more details, visit our partner's, San Francisco Public Library, 2018 Summer Stride Guide 2 [PDF 11.8 MB] or by visiting their website: www.sfpl.org/summerstride.
---
Summer Stride Community Shuttle Trips
As a way to encourage all San Franciscans to find and enjoy their local national parks, the San Francisco Public Library and the National Park Service will provide FREE Community Shuttles from branch libraries to national park sites and programs in the Bay Area.

Please register in advance by signing up at a participating library branch online or visit Golden Gate National Parks Conservancy's Eventbrite Registration page here. While reservations are not required, it is important to secure your spot as space is limited!

Additional questions? Email: parkshuttles@parksconservancy.org, or call 415-561-3531.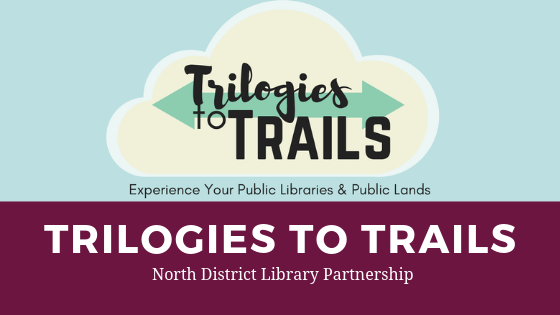 ---
Trilogies to Trails
The Trilogies to Trails Summer Shuttle program offers trips from Marin County's public libraries to public lands in Golden Gate National Recreation Area and beyond. To RSVP contact your library branch.

Free Summer Shuttle Schedule:
June
Crissy Field
Saturday, June 16 | 10am-3pm
Downtown San Rafael Library
Take a ranger-led guided walk through Crissy Marsh, hike up to the Golden Gate Bridge and take in the views, or simply enjoy an afternoon at the beach with your family!

Lake Lagunitas
Saturday, June 30 | 11am-4pm
Pickleweed Library
A wonderful day awaits you at Lake Lagunitas. Take a ranger-led guided walk around the lake; view birds, turtles and other animals from the platform on the dam; or simply enjoy the sounds of the creek with your family in the redwood picnic grove.
July
Stafford Lake
Saturday, July 7 | 10am-2pm
Bookmobile
Join us for a fun and informative afternoon at Stafford Lake Park. Take a ranger-led hike, ride a bike, play games and make traditional Miwok crafts and handiwork. Learn about the Native Miwok people who inhabited Stafford Lake for generations and discover how new Park infrastructure is being influenced by the Miwok people of today.

Marin Headlands
Saturday, July 14 | 10am-3pm
Novato Library
From beaches to bunkers the Marin Headlands is filled with unique beauty and history. Join a ranger-led hikes and experience the stunning views of this National Park!
August
Mount Tamalpais
Saturday, July 21 | 10am-2pm
South Novato Library
Climb and explore the tallest peak of Marin County for a view you'll never forget! Rangers and docents will tell the rich history of what is Mount Tamalpais State Park.

Muir Woods
Saturday, August 4 | 11am-3pm
Marin City Library
Look up and take in the beauty of the ancient redwoods in Muir Woods National Monument. Join rangers on mini hikes to learn more about the forest or explore the park at your own leisure.

Alcatraz
Saturday, August 18 | 10am-4pm
Point Reyes Library
Come discover the rich and layered history of Alcatraz Island!

Requests for accommodations can be made by calling (415) 473-3220 (voice/TTY) or 711 for the California Relay Service or emailing library@marincounty.org at least four work days in advance of the event. Copies of document are available in other formats upon request.
Last updated: February 20, 2019