Women's Leadership Forum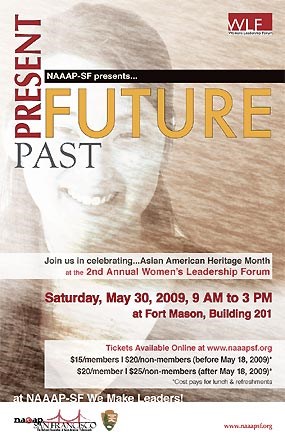 On Saturday, May 30, 2009 at Fort Mason Chapel, NAAAP-SF will be presenting the 2nd Annual Women's Leadership Forum. The theme this year is "Past, Present, & Future." It will be from 9 a.m. to 3 p.m.
WHO
The National Association of Asian American Professionals—San Francisco Chapter & the National Park Service
WHAT
2nd Annual Women's Leadership Forum for Asian American and Pacific Islander Heritage Month
WHEN
Saturday, May 30, 2009 from 9 AM to 3 PM
WHERE
Fort Mason Chapel located at the cross streets of Bay Street and Franklin Street in San Francisco.
WHY
To help inspire the next generation of Asian American leaders for the San Francisco Bay Area. We are dividing the event into three sessions, two in the morning and one in the afternoon with a lunch break:
Session 1: Past Experiences—is targeted towards accomplished and knowledgeable speakers who can talk about their own professional experiences and what obstacles they had to overcome to get where they are today.
Session 2: Present Practices—is targeted towards individuals today who can speak about the process of networking, collaboration, mentoring, and/or how to present themselves to other working professionals.
Session 3: Future Aspirations—is targeted towards the foreseeable future and what prospects, skill sets, or opportunities are available/required for women of the future. What recommendation or mentoring would they suggest to the next generation of women leaders?
SPEAKERS
Mable F. Yee is a technologist, entrepreneur, filmmaker and activist. She spent 27 years in the tech industry launching and managing global brands for Fortune 1000 corporations like Xerox Corporation, Ashton-Tate and Network General. She has been CEO and co-founder of several start-ups in the networking, internet and consumer marketing industries. She is fascinated with the intersection of New Media technologies, online activism and the opportunities to build new content and distribution models to attract and connect socially networked and mobile audiences. As a filmmaker, she co-produced the documentary, "Engage Her: Getting minority women to lead and vote". In 2008, Mable launched a new social movement and start up: EngageHer.org. It is an online organization that educates and activates multiculturals, women and communities to step up to leadership and participate about issues they care about. Mable has sat on many boards and actively advises technology start ups and non-profit organizations. She is a member of the Women's Media Center, Shesource.org and as a public speaker has appeared at many conferences and engagements.
Cynthia Ip is a 34 year career employee with the National Park Service. As the Regional Comptroller of the Pacific West Region, she is responsible for the planning, policy, and management of the region's budget and financial management activities, and provides advisory services to 58 park units across 7 states.
Cynthia had participated in a study tour to the national parks in the Xichuan province of China, which culminated in establishing sister-park relationships with Jiuzhaigou and Huanglong. She reviews, edits, and translates park brochures from English to Chinese for various parks within her region. Cynthia also works as a freelance translator and had been a part-time interpreter for the AT&T Language Line Services.
Pauline Jue is currently the Chief of Workforce Management for the National Park Service. In her 37 year career with the NPS, she has worked as a part-time clerk to full-time positions as Training Officer, Civil Rights Manager, Human Resources Manager to her current position managing all of these programs. She has conducted training programs for supervisors and employees on civil rights and human resources topics.
Erik Sakamoto leads the Youth Development and Training Programs at Youth Radio. He brings 9 years of experience from his work in East Bay community based non-profits focused on juvenile justice, youth development, youth activism, and technology education. He has worked in the classroom, in after-school programs, residential facilities, and detention centers. Central to his work, past and present, is the cultivation of youth leaders to bring about change in Oakland. He is a graduate of UCLA with a degree in Psychology.
PARTNERS
National Park Service
National Association of Asian American Professionals—San Francisco
TRANSPORTATION
MUNI Buses 10, 30, 47, 49
MORE INFORMATION to RSVP
Last updated: February 28, 2015