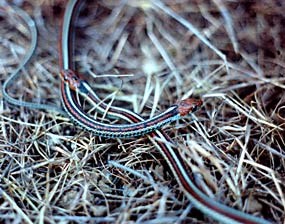 Reptiles are an often feared family of Golden Gate's fauna, but with their hardy scales in intricately arranged patterns, they are also one of the most beautiful. Look for lizards and snakes sunning on a rock or a stretch of trail as you hike through the park. The garter snake is the most common snake in the area, but a number of other species also live in the park such as the California kingsnake, gopher snake, Pacific ringneck snake, and Pacific rubber boa. Humans have nothing to fear from these species of snakes, which prey on small rodents and other reptiles. Legged reptiles include the alligator lizard with its long mottled body, the Western fence lizard with its blue belly, and the Western skink. Most native turtles have been extirpated, but it is possible that a visitor might see a Western pond turtle tucked away in the park's wildlands.
One of the most rare and beautiful snakes in the world, the San Francisco garter snake (Thamnophis sirtalis tetrataenia), also lives in Golden Gate. This species has been listed as endangered by the U.S. Fish and Wildlife Service and C.A. Department of Fish and Game since 1967. It is endemic to San Mateo County, and is now found in only a few places including land owned by San Francisco Watershed District and Mori Point in Pacifica. In the past, San Francisco garter snakes have been spotted at the park's newest addition, Rancho Corral de Tierra; however, none have been found in recent surveys. The most robust San Francisco garter snake populations are at Año Nuevo State Park.
Learn more about the park's reptiles and amphibians here
, including short resource briefs and photos and multimedia on these amazing animals.