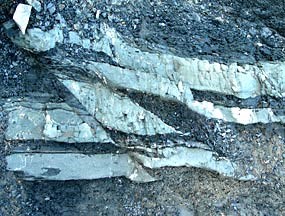 Golden Gate National Recreation Area is located in a seismically active zone along the San Andreas fault, where the Pacific Plate is slowly creeping northward past the North American Plate at a rate of about one inch a year. The San Andreas fault has been active for the last 28 million years and has existed in the San Francisco Bay Area for the last 12 million years. In the area of the park, the San Andreas Fault extends northwestwardly into the Pacific just south of Fort Funston, and comes back onshore briefly to run northward from Bolinas Lagoon to Tomales Bay. In addition to the San Andreas, there are many smaller subsidiary faults in the area including the dangerous Hayward Fault to the east of the park. Tectonic movement along these faults is expressed as violent earthquakes about once a century.
This active tectonism is responsible for the rugged terrain around the Bay and in Golden Gate. Topographical relief of the park ranges from sea level to about 2,300 feet near the top of Mt. Tamalpais. Hill slopes range from almost flat marine terraces and alluvial deposits to steep canyons along creeks, and near vertical bluffs above the coast. Most watersheds are less than one square mile in area, and flow directly into the ocean through narrow V‑shaped stream beds cut through bedrock. Stream channel gradients range from 3 percent, in Elk Creek, to 35 percent, in steep tributaries on Bolinas Ridge.
The park also sits above a subduction zone where oceanic crust once moved under the North American continent. The rocks that compose the geologic foundations, or bedrock, of the Bay Area were formed under the Pacific Ocean from nearly 200 million years ago to around 50 million years ago, and were added to the continents margin along this subduction zone from 50 to 130 million years ago. Sandstone, shale, basalt, chert and serpentinite are among the bedrock types present. These rocks belong to the Franciscan Complex and were greatly deformed and partly metamorphosed as the ocean floor was thrust under the western edge of the North American Plate, resulting in a landscape of easily eroded, sheared and crushed sandstone and shale, with occasional blocks of more resistant rocks like chert that form prominent outcrops.