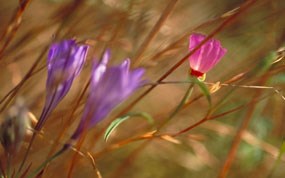 The endangered Presidio Clarkia occurs in serpentine soils created from California's state rock Serpentinite. Serpentenite occurs in fault zones and tends to have high levels of heavy metals such as zinc and magnesium and low levels of nutrients. Most of the Presidio's grasslands have been developed or overrun by invasive European grasses. There is an additional population in the Oakland Hills.
The endangered White-rayed pentachaeta is a small annual plant with yellow disk flowers surrounded by white to purple ray flowers. This member of the sunflower family (Asteraceae) is currently known from a serpentine bunchgrass community and native prairie in two small areas of San Mateo County, both on San Francisco Water District lands. It was formerly known from Marin to Santa Cruz counties.

The endangered Fountain thistle is an herbaceous perennial with several stout, erect, reddish stems and large white to pinkish, nodding flowering heads. This member of the sunflower family occurs only in the extremely restricted serpentine seeps of the Crystal Springs region, San Mateo County. It sometimes grows with other rare plants like fragrant fritillary (Fritillaria liliaeca) and San Francisco wallflower (Erysimum franciscanum). The few existing fountain thistle occurrences are on public land owned and managed by CALTRANS and SFWD. An occurrence previously known from Edgewood County Park is thought to be extirpated; no plants have been seen there since one plant was observed in 1993. Construction of Interstate 280 contributed to the decline of fountain thistle by destroying habitat and altering the drainage patterns feeding the seeps in its serpentine grassland plant community; subsequent invasion of pampas grass into several of the colonies further threatens the species.