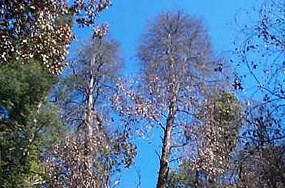 Since 1995, large numbers of tanbark oaks , coast live oaks and black oaks have been dying in California's coastal counties. The epidemic, referred to as Sudden Oak Death, was first seen on tanoak in Mill Valley in Marin County. Since 1995, it has been confirmed in at least thirteen central coastal counties. In June 2000, University of California researchers isolated a previously unknown species of Phytophthora, a fungus-like organism, from dying trees. Relatives of this "fungus" caused the Irish potato famine, Port-Orford cedar root disease in the Pacific Northwest and are causing oak dieback in many parts of the world. In January, 2001 researchers reported "that a new species of Phytophthora isolated as early as 1993 from ornamental rhododendrons in Germany and The Netherlands matches the newly-discovered species found in California. This new species has since been officially named: Phytophthora ramorum. The name refers to the pathogen's tendency to cause infection on branches. Even in natural woodlands and forests where the stresses associated with human activity are largely absent, adverse environmental conditions such as drought or suppression of fire can be important factors affecting the health of trees. Tree death is often best explained in terms of environmental stresses that predispose trees to being attacked and killed by secondary agents. However, in the case of Phytophthora ramorum, it does not seem that any pre-disposing stress is necessary for infection. This is a very aggressive pathogen and can infect and kill otherwise healthy trees.
The earliest symptom in most oak species is the appearance of a bleeding canker of burgundy-red to tar-black thick sap oozing from the bark surface. Similar bleeding, though sometimes less viscous, is also seen on tanbark oak. From here, secondary invasions from bark beetles or fungus is common. Look for piles of bark beetle dust (frass), or fungus in addition to the bleeding cankers..
Important research discoveries are ongoing. Notable among them are the findings that Phytophthora ramorum may be spread through infected wood, soil and rainwater. The leaves of foliar hosts such as bays, madrones and rhododendrons contain large amounts of spores which may be dispersed through the air under moist and windy conditions. However, probably the most important way in which humans spread the pathogen around is by moving infected soil along trails and through their shoes and car tires into other natural areas.

If you have been hiking or driving in an infected area especially during the rainy season, PLEASE clean the muddy chunks off of your shoes and spray them with a disinfectant; and get the tires and undercarriage of your vehicle washed BEFORE entering park lands.