Green Buildings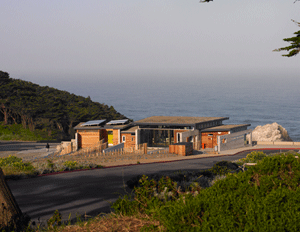 Green buildings are constructed with special consideration to environmentally friendly practices starting at construction and continuing to operation and maintenance. Leadership in Energy and Environmental Design, or LEED is a program that certifies different levels of green buildings. Golden Gate National Recreation Area has several LEED certified buildings.
The Crissy Field Center has a LEED Platinum certification, the highest rating a building can receive. One-fourth of the materials used for its construction were from recycled content. The building's exterior panels were made from locally salvaged redwood. Floor panels and siding were made from post-consumer paper and bamboo fiber. The construction of the Center produced less environmental disturbance and waste than traditional methods because its parts were prefabricating in a factory and then assembled on site.
The Land's End Lookout is another LEED Platinum certified building. To decrease the wasteful consumption of new materials, the building was made from concrete and steel that contained recycled content. The concrete was made from materials supplied by local quarries, reducing the use of fossil fuels needed to transport the raw materials. The attractive east end of the building is made from reclaimed redwood. Over three quarters of the construction waste was diverted from landfills while building the Lookout.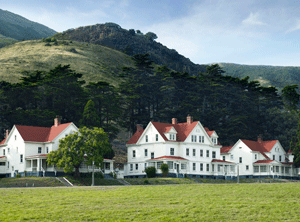 The Cavallo Point Lodge at Fort Baker is LEED Gold certified. Reclaimed wood was repurposed to construct many of the Lodge's furniture pieces. Building insulation was made from recycled denim, eliminating waste destined for landfills. Bamboo and other renewable resources were used in the cabinetry in many rooms. The Lodge also uses environmentally friendly paints and carpets to minimize indoor pollutants and harmful chemicals found in conventional products.
CLICK HERE
to return to the main sustainability page
Last updated: February 28, 2015