Transportation and Fossil Fuel Reduction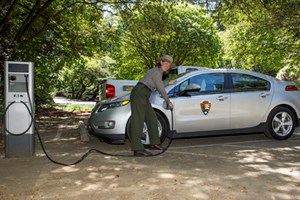 Vehicles are one of the largest consumers of non-renewable energy resources and emitters of carbon dioxide pollution. Vehicle usage by both park staff and visitors contribute to this environmental footprint.
Visitors
Do you plan to travel to the park in an alternative fuel vehicle? If so, good for you! Your actions help us reduce greenhouse gas emissions and reduce petroleum use. Golden Gate provides electric vehicle charging stations at Muir Woods National Monument, Fort Mason, Stinson Beach and East Crissy Field. Visit the interactive Electric Vehicle Charging Map webpage to plan your trip.

Visiting Muir Woods? Parking reservations are always required. Visit gomuirwoods.com for more information.
Around the Park
Here at Golden Gate, we aim to reduce the park's dependence on fossil fuels by using alternative fuels and driving more efficient vehicles. As of 2019, the park fleet includes 6 electric vehicles and twenty-two hybrid vehicles.

Park staff have the option to work compressed schedules or telecommute when appropriate, which reduces commuting time and the associated fuel usage. A transit subsidy program for staff promotes the use of mass transit when commuting between home and work, and a bicycle subsidy is available for those who commute to work on their bikes.

Park policy limits engine idling while stopped or parked. Idling should be avoided because it contributes to air pollution and wastes energy. Although it may seem appropriate at times, it is often unnecessary.

Besides being able to take public transportation to work, employees can also take advantage of rideshare options to reduce the footrpint of their commute.
Last updated: April 28, 2023