Vestiges of Sutro Baths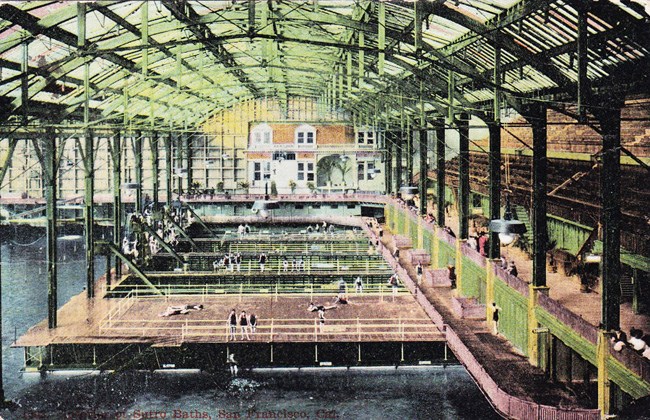 Sutro Baths, Adolph Sutro's giant center for recreation and entertainment, opened next to the Cliff House in 1896 after two years of construction. The structure spread over three acres and included seven pools of seawater heated to various temperatures, slides, spring boards, over 500 dressing rooms, stadium seating that could hold up to 3,700 seated spectators, restaurants, coin operated games, and a museum full of photographs, coins, and stuffed animals. At the time of its opening, Sutro Baths was virtually unrivaled in the United States in its scale, technical achievement, and modernity.

The complex hosted events from swimming competitions to beauty contests to dwarf boxing matches. Sutro Baths was a popular Lands End destination for many years, yet the great expense of its upkeep and maintenance made it an uncertain business proposal.

After Adolph Sutro died in 1898, his family struggled to operate the facility profitably adding ice skating, dancing and other sports to its list of attractions. Sutro's grandson finally sold the Baths to Playland-at-the-Beach owner, George Whitney, in 1952. Whitney also struggled with operations and, despite his best efforts to keep it open, the Baths were permanently closed in 1966.

The land was sold to a developer who planned to erect a 200-unit ocean front apartment complex at the site. During the demolition of the Sutro Baths property, a mysterious fire destroyed the remaining structures. After the fire, the developer abandoned his plans. The Sutro Bath's concrete ruins became a part of the Golden Gate National Recreation Area in 1976 and are still visible today.

Last updated: May 13, 2020