Vestiges of Point Lobos Avenue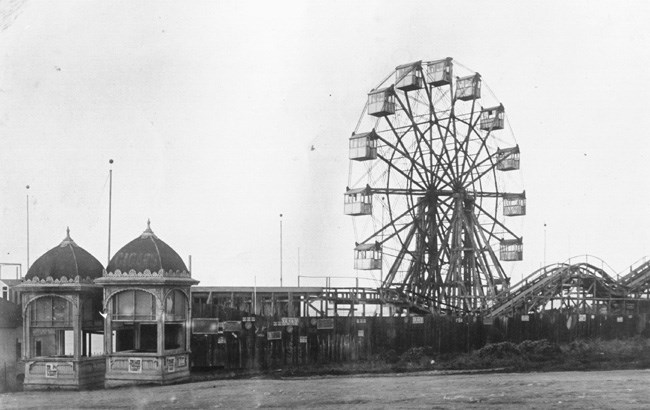 Point Lobos Avenue, which began as a privately owned toll road, started at the intersection of Geary Boulevard and Presidio Avenue and continued west to the beach. The city designed the road for horse-drawn carriages and omnibuses and was a favorite racing road for horse drivers.
Point Lobos Avenue made Lands End accessible to visitors from the inner districts of San Francisco. The Point Lobos Toll Road was a popular ride for visitors and no sightseeing trip was complete without a ride to the Cliff House. When other modes of public transportation began to reach Lands End, the toll road went out of favor. In 1887, the city removed the tollbooths and the road became a public thoroughfare, renamed Point Lobos Avenue.
As a public road, Point Lobos Avenue continued as the main thoroughfare upon which the businesses, attractions, and residences of Lands End were located. The small stretch of road running from 48th Avenue down to the Cliff House and Ocean Beach was the site of the main developments in Lands End: the Cliff House, Sutro Baths, and Sutro Heights. It was also the route to Merrie Way, where Sutro's Pleasure Grounds were located as well as the 48th Avenue Train Depot and Ocean Terrace.
The stretch of Point Lobos Avenue between Presidio Avenue and 42nd Avenue was renamed Geary Blvd, in honor of the Gold Rush era San Francisco mayor. Today, Point Lobos Avenue begins at 42nd Avenue and runs west, curving down past the Cliff House to Ocean Beach where it turns into the Great Highway. Although many of its 19th and early 20th century attractions and businesses are gone, Point Lobos Avenue still offers plenty opportunities for fun as well as stunning views of the beach, ocean, and a gimpse of the fog shrouded Farallon Islands.
Last updated: February 28, 2015