Vestiges of the Cliff House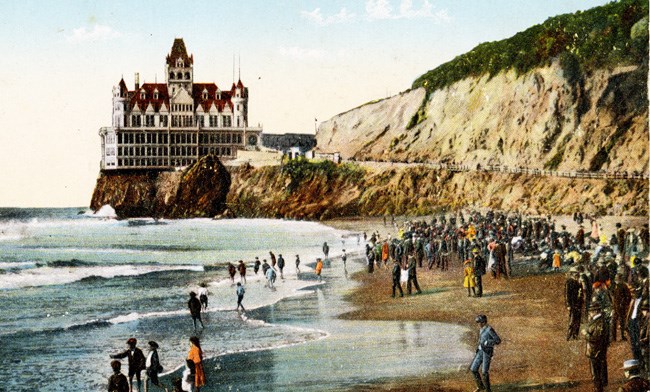 C.C. Butler and Senator John Buckley opened the first Cliff House in 1863. The restaurant was housed in a modest structure perched on the cliff at the end of Point Lobos Road. Under Captain Junius Foster, the establishment became a destination for the city's wealthy and high profile visitors. They remodeled the Cliff House in 1868 to include a promenade and two wings. The Cliff House became a favorite meeting place of politicians as well as more undesirable members of the population. Some of the disreputable clientele scared off the high society customers and soon the Cliff House became known for indecent behavior.
Adolph Sutro bought the Cliff House in 1883 and unsuccessfully tried to revamp the restaurant himself. In 1885, he leased the restaurant to J.M. Wilkins who restored the Cliff House's reputation, reclaiming its place as a tourist destination and respectable establishment for tourists and locals alike.

On Christmas Day 1894 a fire started in the chimney that burned the Cliff House to the ground. When Sutro rebuilt the building, in an extravagant Victorian style, it cost him $75,000. Sutro's dollhouse version of the Cliff House appeared in countless photographs, drawings, postcards, and souvenirs. The building became a world famous tourist attraction that also remained a favorite among locals.

On 7 September 1907, only eleven years after Sutro's death, fire once again destroyed the Cliff House. Emma Sutro Merritt, Sutro's daughter, rebuilt the building again. In contrast to Sutro's extravagant Victorian structure, the third incarnation of the building was built in a comparatively simple neoclassical style.

George and Leo Whitney, then owners of Playland at the Beach, bought the Cliff House in 1937. The Whitney Brothers transformed the Cliff House's exterior several times during their 40 year tenure. They repainted, installed redwood paneling, commissioned murals, and set up bright neon signs.

In 1977, the National Park Service acquired the Cliff House and it became a part of the Golden Gate National Recreation Area (GGNRA). The Park Service remodeled the building in 2004 in an understated modern style that emphasized the surrounding natural beauty. The Cliff House remains both a famous San Francisco tourist attraction and a popular haunt for locals.

Last updated: February 28, 2015