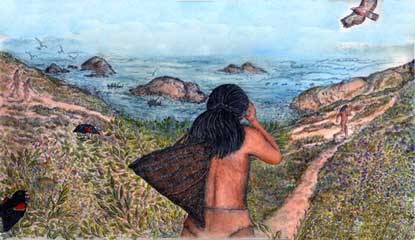 Native Americans have called the San Francisco Bay region home for over 10,000 years. Park areas south of the Golden Gate, from the San Francisco Peninsula, to the East Bay and south to Monterey, are the aboriginal lands of the Ohlones (also called Costanoans). Park lands north of the Golden Gate, primarily in Marin County and Southern Sonoma County, are the aboriginal lands of the Coast Miwoks. The park's oldest archeological site is shell material found at Land's End, dated from 150 AD.
Characteristics of the tribes
Both the Ohlone and Coast Miwok peoples were organized into small, politically independent societal groups or tribes; the Ohlones had about 50 tribes and the Coast Miwoks had approximately14 tribes. Ethno history suggests that small villages were maintained along the marshlands. In San Francisco, the villages were located at today's Fort Mason, Crissy Field, and Sutro Baths. In Marin, the Coast Miwok encampments were located near today's Horseshoe Cove in Fort Baker and at Big Lagoon at Muir Beach. Groups moved annually between temporary and permanent village sites in a seasonal round of hunting, fishing, and gathering. Periodic burning of the landscape was conducted to promote the growth of native grasses for seed gathering and to create forage for deer and elk. The world view and spirituality of both the Ohlones and Coast Miwoks were expressed in a complexly woven tapestry of stories, myth, song, dance, and ritual.