Lime Point, 1866-1869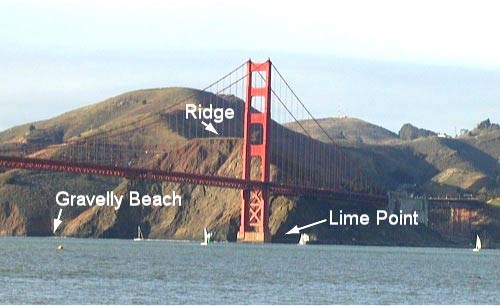 Although a large fortification had been designated for Lime Point under the Plan of 1850, the military was unable to acquire the land until 1866, through a purchase that included all of the Marin Headlands. To excavate the land for the construction of the fort, the largest non-combat blasting operation in the United States, up to that at time, was used to level the terrain. Between 1868 and 1869, under the supervision of Major George Mendell, charges of 24,000 pounds of gunpowder were exploded in an effort to blast out a level site at the base of the 300-foot cliff.1 This rubble still exists, in part, under the northern approaches to the Golden Gate Bridge.2
The Lime Point fortification was originally intended to be a large defensive structure similar to the multi-tiered brick and mortar casemated design used at Fort Point. However, budgetary constraints halted work at Lime Point before it even began. Instead, the military opted for a more economic alternative by building several barbette batteries. Although these smaller fortifications largely reflected economic limitations, the coastal defenses at Lime Point demonstrated the changing nature of post-Civil War fortifications. "Never again would forts be built in the storybook style as single structures housing large numbers of cannon. From this time on, a fort was a piece of real estate occupied by a number of dispersed individual batteries."3
The Barbette batteries, as finally approved, were to consist of a water battery at Point Cavallo, Gravellly Beach, and a battery at an elevation of well over 400 feet on top of Lime Point bluff. The fortifications atop Lime Point would later be divided into two batteries: Cliff Battery at the end of the ridge, where Battery Spencer stands today; and Ridge Battery, located farther back along the ridge itself.2
---
1. Thompson, Chief Engineer Joseph G. Totten to Secretary of War Floyd, 9 November 1859, Office of the Chief of Engineers, RG 77, National Archives Record Center, San Bruno.
2. Thompson, Erwin N. Historic Resource Study: Seacoast Fortifications, San Francisco Harbor. California: GGNRA, 1979.
3. Lewis, Emanuel R. Seacoast Fortifications of the United States: An Introductory History. Pictorial Histories Publishing Company, 1990.
Last updated: February 28, 2015