Fortifications on Alcatraz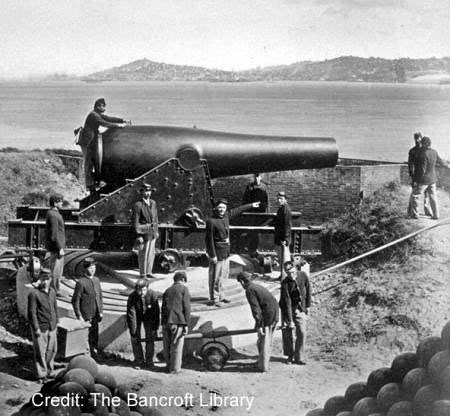 Pre-Civil War
Due to the mounting threat of a war with Spain in 1855, appropriations for coastal fortifications were increased, and plans for the construction of a fortress on Alcatraz Island were expedited. The barbette batteries on Alcatraz were given priority, since they were less complex and time-consuming to build than the casemated batteries at Fort Point.
By 1860, construction on Alcatraz resulted in a fortress "completed in a very perfect manner, to the extent of 75 guns of the heaviest caliber, ringing the island in all directions, mounted in barbette batteries, with a stout brick defensive barracks overlooking the island from the hill at its center. Thus, all of Alcatraz Island became a fortification, and all of the works upon it took advantage of the island's hilly topography for tactical advantage."1 At the onset of the Civil War, the armaments on Alcatraz consisted primarily of 8-inch and 10-inch Columbiads, in addition to 24-pounder howitzers.2
Civil War, 1861-1865
During the Civil War, appropriations for fortifications were increased by congress, resulting in several new works being constructed on Alcatraz Island. Three new batteries were completed by the end of June 1863; two between West and North batteries and one between West and South batteries. There were now eight batteries ringing the island, which could mount a total of 101 guns and 19 flank howitzers.2
Postwar Modernization, 1866-1876
The work during this period consisted mostly of remodeling the existing barbette batteries rather than new construction. New funds were channeled into projects that increased the fortification of the Island: thicker parapets, new breast-high walls of brick, new brick and concrete magazines under earthen traverses, and new platforms for cannon. Even during the years without government appropriations, military prisoners were employed to excavate rock on the island and construction continued.2

Between November 1867 and April 1868, the following armaments were stationed at Alcatraz:2
Mounted:
5 15" Rodmans
12 10" Rodmans
3 8"Rodmans
6 10" Rodmans
40 8" columbiads
12 42-pdr guns
16 42-pounder. Howitzer
3 200-pdr. Parrots
6 100-pdr. Parrots
2 8" siege mortars
Unmounted:
4 15"Rodmans
35 10" Rodmans
1 8" Rodmans
6 42-pdr. guns
3 42-pdr. guns
1 4-pdr. Bronze Mexican gun
In the years following the Civil War, the number of armaments on the island steadily increased. In November 1869 the Pacific board submitted its second plan for remodeling the already existing barbette batteries on Alcatraz. However, the military development on the island came to an abrupt end when, in 1874, Alcatraz was stripped almost bare of armament, as a result of most of the guns being too obsolete to defend the harbor. The only guns that remained on the Island were two 15-inch Rodmans in Battery 3 (where the model industries building now stands) and one in Battery 2.2
After 1875, with the exception of underwater mine warfare, modernization came to an abrupt halt due to a number of crucial political and technical considerations. As the initial exuberance at the end of the Civil War turned to a sober realization of the war's great cost, the country's political climate changed more and more to one of isolationism. As the Indian wars raged, the Army's energies became centered on its role as a frontier constabulary, rather than as a force to be pitted against other modern military establishments.3
Of the initial 13 batteries planned for the island only 8 were completed and only seven of 36 projected 15-inch platforms were left in place. Alcatraz Island was not the strongly fortified place as initially planned; yet, only behind Battery West at Fort Point, it was the most strongly fortified point in San Francisco Bay during this period.2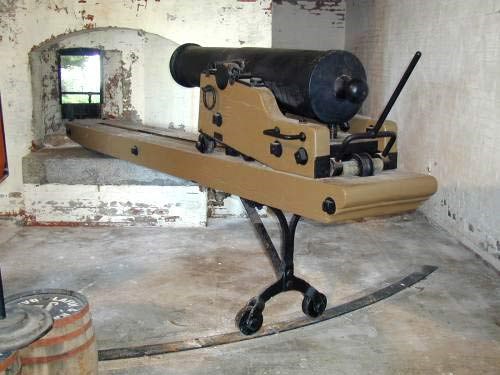 At its height as a fortification, the island mounted nearly 140 artillery pieces in a variety of casemates and behind a half-mile of masonry walls. Today, however, almost all traces of the fortress are buried beneath the prison buildings. Communication tunnels, scarp walls, and traverse magazines can still be found on the island, but the remains of all high-caliber gun batteries have been completely destroyed. The only remaining artillery emplacement on the island is a defensive howitzer located inside the Alcatraz Guardhouse, but it was not historically at that site.4
---
1. Lewis, Emanuel R. Seacoast Fortifications of the United States: An Introductory History. Pictorial Histories Publishing Company, 1990.
2. Thompson, Erwin N. Historic Resource Study: Seacoast Fortifications, San Francisco Harbor. California: GGNRA, 1979.
3. Freeman, Haller, Hansen, Martini, and Weitze. Seacoast Fortifications Preservation Manual. Golden Gate National Recreation Area, July 1999.
4. Martini, John and Haller, Stephen. Ordnance Plan. Golden Gate National Recreation Area, 1996
Last updated: February 28, 2015