Marin Headlands Rotation Animation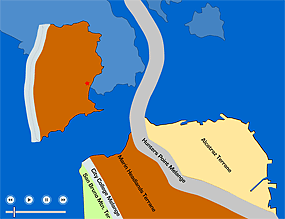 Do large blocks of rock rotate? Geologic evidence says they can, and do. Based on fault patterns and rock paleomagnetics, there is strong evidence that the Marin Headlands block has rotated clockwise about 130 degrees since these rocks were added to the edge of North America about 95 million years ago. No one knows when this rotation occurred, but it is likely to be related to movement along the nearby San Andreas fault in the last 10 million years. Right lateral movement along that fault is thought to have caused the clockwise rotation of other large blocks of rock, particularly in southern California.
Can rotation of this block be responsible for the modern geography of the Golden Gate Straits?

View this animation and decide for yourself.
The animation requires your monitor to be set to at least 800x600 resolution and you must have Flash version 8 or greater installed to play. You can get the latest version of Flash here for free.
Last updated: February 28, 2015