Geo-speak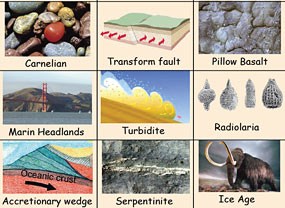 Geo-Speak includes two fast-paced, participatory reviews of the vocabulary-rich language of plate tectonics. Both activities are meant to ease the educator's burden of wading through scientific terminology before embarking on a deeper understanding of geologic processes. I HaveTectonics incorporates the basic tectonic language of the Franciscan rocks and leads into Cookie Tectonics. Geo-lingo Bingo provides a deeper exploration of the Franciscan Complex in the Bay Area.
Download the following components of I Have Tectonics:
View a video demonstration of a partial I Have Tectonics activity (coming soon).
Download the following components of Geo-lingo Bingo:
Last updated: February 28, 2015