Employee Commute Options
Long, expensive commute? Carpooling can save you money, reduce your environmental impact, and let you get to know your coworkers.
NPS cannot attest to the accuracy of non-NPS information provided by these third-party sites or any other linked site. NPS is providing these links for your convenience. In doing so, NPS does not endorse any non-government websites, companies or applications.
For employees who work on the Presidio, the Presidio Trust has many resources on their
website
about rideshare.
511 RideMatch
511 Ridematch is operated by the Metropolitan Transportation Committee (MTC). The MTC is the planning organization for the nine-county Bay Area and also operates FasTrak and Clipper Card.
511 RideMatch is a regional system that helps you find carpools, vanpools, or bicycle partners

Track your trips on 511.org using the Trip Diary to be eligible to win prizes

To sign up, call 511 and say "Carpool" or visit www.ridematch.511.org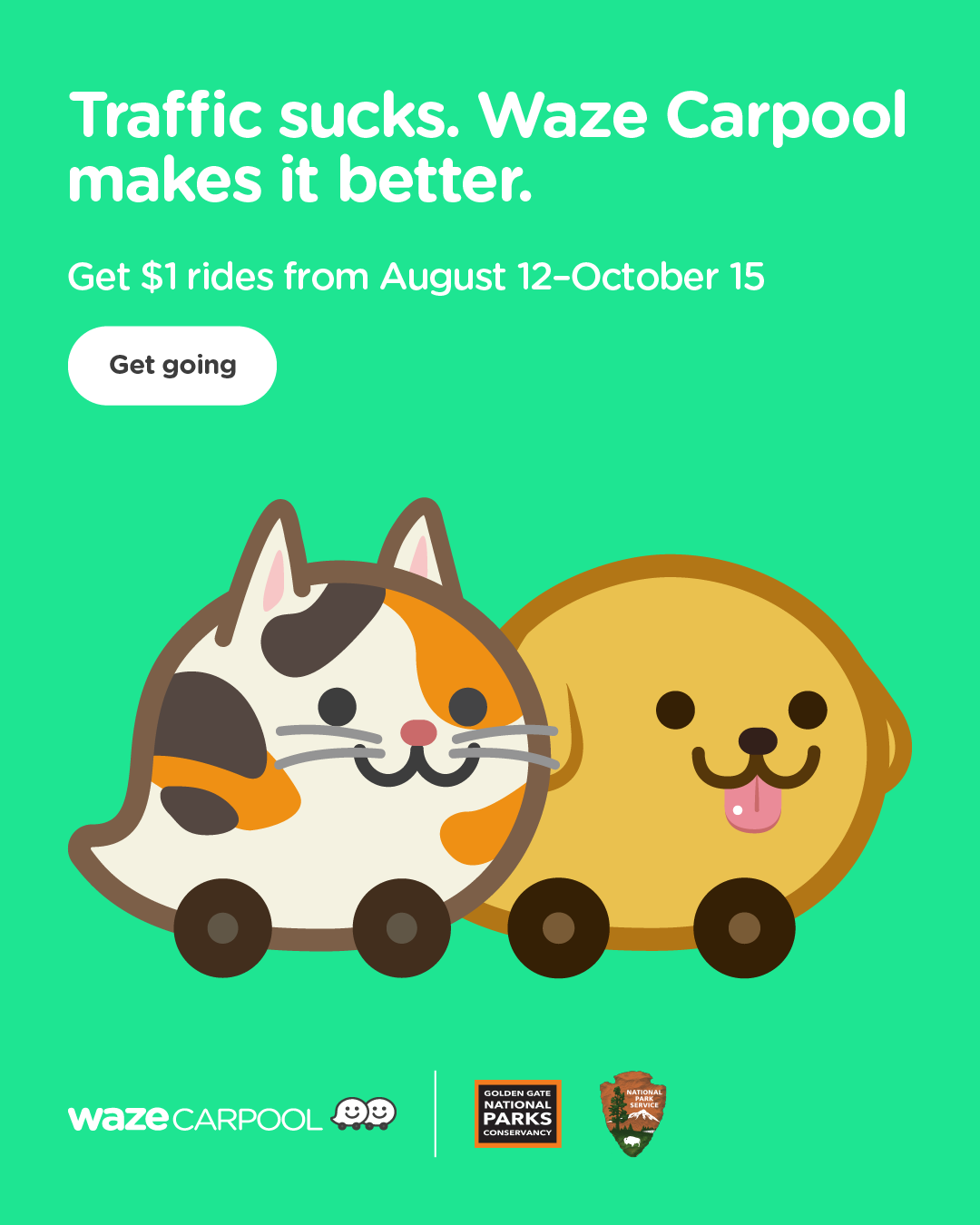 Waze Carpool
Waze is best known as a GPS navigation software that works on smartphones and tablets to provide turn-by-turn navigation based on user provided traffic and route information. Now, drivers can use Waze to pick up passengers along a planned route, reducing the number of cars on the road.
Through October 15, 2019, all rides to and from Fort Mason and the Marin Headlands will be just $1 with a promotion by Waze
This promotion is open to all NPS, Conservancy, and Park Partner employees who work at Fort Mason and the Marin Headlands.
After that, passengers pay up to $0.54 per mile and this goes directly the driver to help reduce their commute costs

Payment is set in advance based on distance traveled and is processed through the Waze app

You choose who you want to carpool with based on profiles, star ratings, and filters like "co-workers only"

You pick the days you want to carpool and set your work schedule
Here is a guide on how to find a ride with Waze Carpool.
Last updated: August 28, 2019