Remembering Executive Order 9066
108 Civilian Exclusion Orders, signed at the Presidio, led to the forced removal and incarceration of 120,000 Japanese Americans during World War II.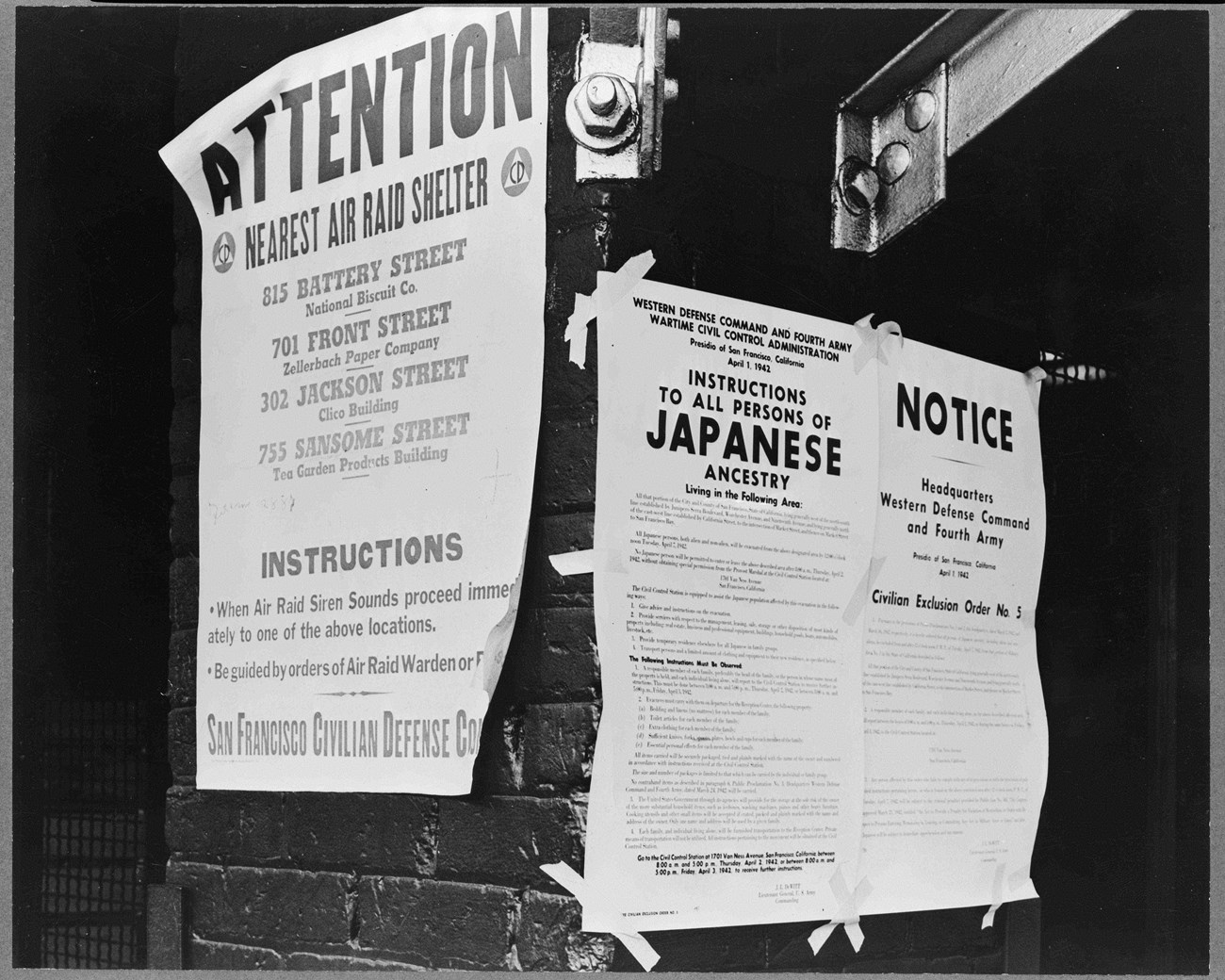 February 19, 1942, ten weeks after the attack on Pearl Harbor, President Franklin D. Roosevelt signed Executive Order 9066 out of "military necessity". The order authorized the War Department to designate military zones where persons of 'enemy' ancestry would be excluded. At the Western Defense Command headquarters in the Presidio of San Francisco, Commander Lieutenant General John L. DeWitt signed the 108 Civilian Exclusion Orders and directives that would enact Roosevelt's order across the West Coast.
By the fall of 1942, all Japanese Americans had been evicted from California and relegated to one of the ten concentration camps built to imprison them. Prohibited from taking more than they could carry into the camps, many internees lost their property and assests as it was sold, confiscated or destoryed in government storage. As four or five families with their sparse possessions squeezed into and shared tar-papered barracks, life consisted of some familiar patterns of socializing and school. However, eating in common facilities and having limited work opportunities interrupted other social and cultural routines. Persons who were deemed 'disloyal' were sent to a segregation camp at Tule Lake, California. When World War II drew to a close, the camps were slowly evacuated and no person of Japanese ancestry living in the United States was ever convicted of any serious act of espionage or sabotage.

The Federal Reserve Bank of San Francisco reported these citizens had suffered $400 million dollars in losses. The internment of persons of Japanese ancestry during World War II sparked great constitutional and political debate. Nearly 40 years later, the federal government formally acknowledged that "race prejudice, war hysteria, and a failure of political leadership" motivated this mass incarceration—not "military necessity." During the Reagan-Bush years Congress moved toward the passage of The Civil Liberties Act in 1988 which acknowledged the injustice of the internment, apologized for it, and provided $20,000 to each incarceration camp survivor as a means of reparations.
Last updated: February 23, 2021