Hiking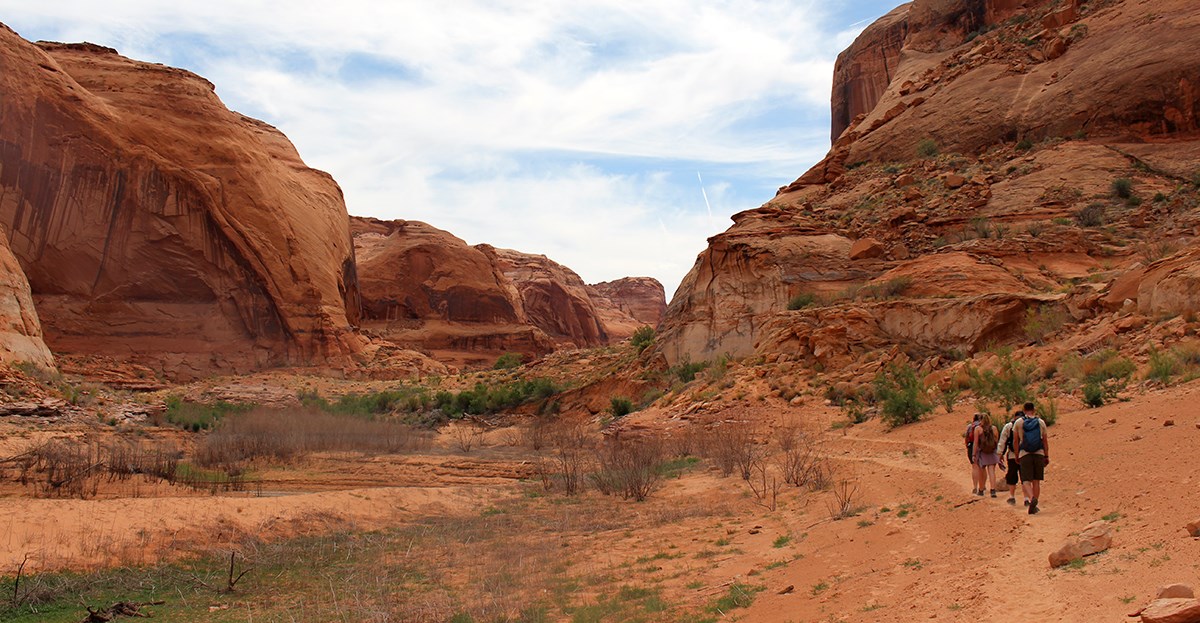 Whether you're looking for a quick walk, a day hike, or a multi-day backpacking trip, Glen Canyon has something to offer.
If you are out camping on the shores of Lake Powell or anywhere in the backcountry, you are welcome to explore the many side canyons, slickrock hills, and passageways through washes into slot canyons or hanging gardens. Just stay safe.
There are few maintained trails in Glen Canyon National Recreation Area. Hike at your own risk.
Day Hikes
Check out your day hike options by park region. These suggestions are a good starting point for various hiking levels.
Trip Planning
The key to a safe and rewarding outdoor experience is the planning you do before getting to the trailhead. Know your route and be realistic about your physical abilities. Prepare for extreme weather conditions. Dress in layers, wear sunscreen, a hat, sunglasses, and sturdy footwear. Bring plenty of water and drink it! Avoid hiking in the heat of the day. Know that shade may be hard to find. And cell service even harder.
Here's a great list of The Ten Essentials from the NPS.
Leave No Trace
Make every attempt to leave the backcountry nicer than you found it. Follow the principles of Leave No Trace to minimize your impact. Do not remove anything from the park. Leave the flowers, rocks and everything else for others to enjoy. Carry all of your trash out of the canyon, including toilet paper and other hygiene items. Do not burn or bury it. Pack it in, pack it out!
Group Size Limit
Large groups create large impacts in the backcountry. Please keep your groups under 12 hikers.
Human Waste Disposal
If a restroom is not provided, all human body waste solids shall be contained and carried out using a portable toilet or a specifically engineered bag waste containment system. Use of a plastic or paper bag as a receptacle for solid human waste and/or for disposal of solid human waste is prohibited unless part of a specifically engineered bag waste containment system containing enzymes and polymers to treat human solid waste, capable of being sealed securely and state approved for disposal in ordinary trash receptacles. Visitors are responsible for providing their own removal system that is adequate for the size of their group and length of stay. Packing out human waste is required in Coyote Gulch, within 1/4 mile of the shore of Lake Powell, the San Juan River, Escalante River, Dirty Devil River or the Colorado River, and anywhere else the minimum 300 feet from a water source cannot be attained.
Read more details about proper waste disposal in the Superintendent's Compendium.
Pets
Pets are allowed in most parts of the recreation area. Pets must be on a leash that is no longer than six feet in length. Owners must clean up solid pet waste.
Watch Your Step
Hike in canyon drainages and on slick rock when possible. Avoid creating a network of social trails. By using existing paths and campsites you prevent unnecessary damage.
Don't bust the crust. Cryptobiotic soil crusts are alive and essential for arid ecosystems. Once stepped on, this fragile crust takes years to regrow.
When reaching your trailhead, do not drive off the road. Leaving the road creates new roads as others follow your tracks.
Backcountry Permits
There is no additional camping fee or permit required to camp in undeveloped backcountry areas, with some exceptions:
Backcountry permits are required for all overnight stays in the Escalante District of Glen Canyon National Recreation Area. Obtain permits at the Escalante Interagency Visitor Center in the town of Escalante or at one of the entry trailheads. Day use does not require a backcountry permit, but please sign the trail register.
Backcountry camping in the Orange Cliffs area of Glen Canyon National Recreation Area requires a permit from Canyonlands National Park.
Staff at Bullfrog Visitor Center can help you with backcountry permits for Capitol Reef National Park South District.
Hiking to Rainbow Bridge from Navajo Mountain requires a Navajo Nation Parks & Recreation backcountry permit. More information about the North and South Trails is available on the Rainbow Bridge website.
Last updated: May 13, 2022