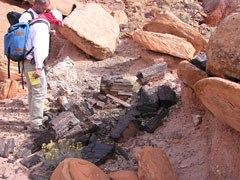 The Colorado Plateau is a vast area that covers approximately 130,000 square miles of Utah, Arizona, Colorado, and New Mexico. In the middle of this rugged landscape lies Glen Canyon National Recreation Area (NRA). The Colorado Plateau was one of the last regions in the United States to be thoroughly mapped. Until the construction of the Glen Canyon Dam in the 1960s and subsequent creation of Lake Powell, the central portion of the Colorado Plateau and Glen Canyon NRA was mostly inaccessible. Canyons in this area expose rock layers deposited on top of each other over time; the youngest rocks at the top and oldest at the bottom. These rock formations are storytellers, revealing fossils and traces of past life forms which create chapters of the earth's history.
Paleontology, the science that investigates the history of life on Earth, can lead to links in biodiversity and evolutionary relationships that illustrate the changes in the environment and climate. Circumstances and conditions to form fossils are very rare; immediately after a plant or animal dies, it must be covered by sediment which protects it from decay and scavengers. Hard substances like bones, teeth, and shells, are more likely to form fossils than soft tissues. Because of the rare and specific conditions needed to preserve remains, only a few plants or animals are likely to become fossilized. Since so few plants or animals are preserved as fossils, fossil records may represent a small portion of previous life.
Mesozoic Era
Scientific and public interest in the Mesozoic Era fossils preserved in the Colorado Plateau region and Glen Canyon NRA has increased due to recent scientific discoveries. The Mesozoic Era began approximately 251 million years ago (mya) at the end of the Paleozoic Era when the area that would eventually be the Colorado Plateau broke free from Pangea, the supercontinent. The Mesozoic is divided into three time periods: Triassic (251-200 mya), Jurassic (200-145 mya), and Cretaceous (145-65 mya). During the Mesozoic, meaning "middle life," dinosaurs evolved and became diverse and the earliest mammals appeared. The fossils preserved from this time record these changes.