Environmental Factors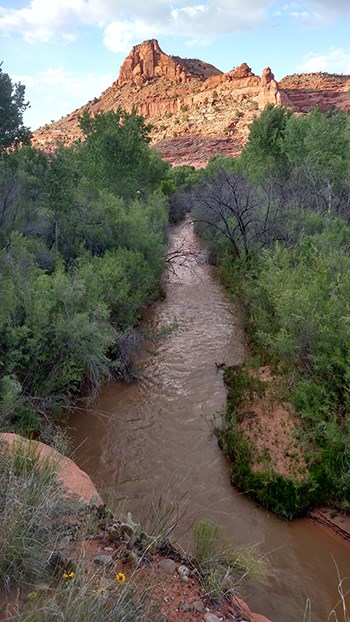 Environmental change is constant in the Colorado Plateau and Glen Canyon National Recreation Area. Changes can be the result of natural processes or human actions. Some can be easily observed during a visit while others may be so gradual that they are unnoticeable over the course of a lifetime. Long before humans came to the Colorado Plateau, environmental processes such as weather, geological processes, climate change, and fire regime shaped the region. The Colorado River and its tributaries carved out canyons, and plant and animal communities adapted to their environment or disappeared. More recently, humans increased their imprint on this environment through grazing, fire suppression, water development, and the introduction of nonnative species.
Fire
Fire regimes also changed with the settlement of Anglo-Americans to the area. Fires, which were typically frequent, low-intensity fires were perceived as a threat. By suppressing fires, large fuel loads accumulated and the fires that did burn were huge, high-intensity wildfires as is currently being seen in the West. The suppression of fire regimes changed nutrient cycles and decreased diversity. We are now seeing the effects of 100 years of fire suppression, and higher temperatures and reduced moisture availability associated with climate change.
Dams
As the West grew, populations demanded more water and energy. Dams were constructed on the Colorado River and other rivers of the West, controlling the flow of water. The construction of Glen Canyon Dam, which was completed in 1963, created Lake Powell, the nation's second largest reservoir. Lake Powell flooded the canyons that had been carved out by the river over time, drowning archaeology sites, plants, and animals, and irreversibly altering the environment. Construction of Glen Canyon Dam and other dams provided energy and water which supported agriculture and growing populations. The creation of Lake Powell created new recreation opportunities and increased visitation to the area, causing a greater human impact on the often fragile resources of the region.


Last updated: February 24, 2020