Animals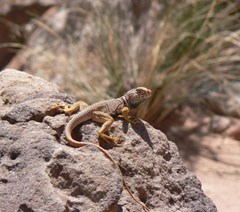 The wildlife of the Colorado Plateau desert have developed unique adaptations to the arid conditions of their environment and are a part of the rich diversity of life in Glen Canyon National Recreation Area and Rainbow Bridge National Monument. Wildlife in Glen Canyon is a reflection of the Colorado Plateau, changes in land use, and changes in the environment caused by the completion of Glen Canyon Dam in 1963 and subsequent filling of Lake Powell. In addition to playing vital roles in the desert ecosystem and animal communities, wildlife also provides recreational opportunities such as bird watching and fishing.
Find out more
Spotlight on these special Glen Canyon/Rainbow Bridge critters
Search for official recognized species in Glen Canyon and Rainbow Bridge through the NPSpecies database.
Select a Park:
Select a Species Category (optional):
Search results will be displayed here.

Visit NPSpecies for more comprehensive information and advanced search capability. Have a suggestion or comment on this list? Let us know.


Last updated: August 26, 2015