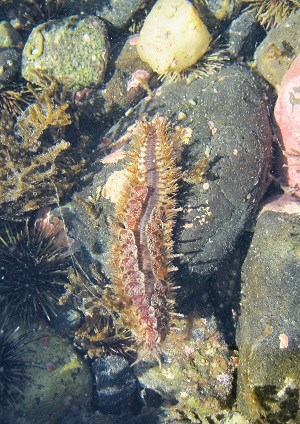 Among the barnacles on rocks in the low to middle intertidal zones, you might spot long, thin worms that are smooth and often dark green or white in color. In muddy areas, similar purple worms are common. These are ribbon worms or Nemerteans. They have an extendable proboscis that measures up to half the length of their bodies. At the end of the proboscis in most species is a stinging barb attached to a poison gland. Ribbon worms are predators. The green ribbon worm (Emplectonema), which usually has a light underbody, specializes on a diet of barnacles which it stings and paralyzes when the barnacle's plates are open to feed.
The purple species (Paranemertes) and likely the white species (Amphiporus) feed primarily on other worms, such as the mussel worm. It is sometimes possible to elicit an attack by the purple ribbon worm by placing a mussel worm nearby in a pool of water. Although the mussel worms can be much larger, and have powerful jaws, the ribbon worm is often successful in paralyzing it with its strike.
Polychaetes, relatives of the earthworm, are found in just about every type of marine environment from the intertidal zone to the deepest parts of the ocean. There are many species of these segmented worms in the Bartlett Cove area but most are buried in the mud and are difficult to observe. Many of the small holes you see in the mud at low tide are the openings of worm burrows, some of which are elaborate sand and mucus structures.