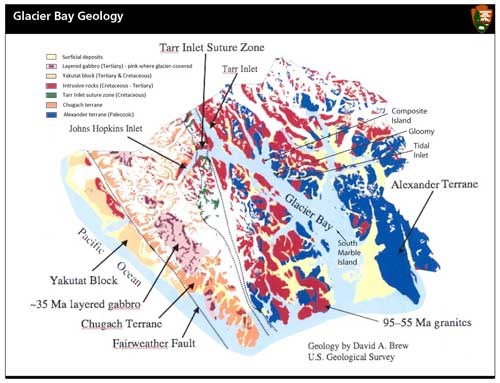 Throughout Earth's history tectonic plates have been pulled apart at spreading centers as hot magma rises to the surface of the ocean floor, transported hundreds of kilometers by transform faults such as the
Fairweather-Queen Charlotte fault.
These massive plates may eventually be driven, or subducted, beneath other plates where they melt and cause volcanic activity along the plate margins. A perfect example is the Pacific Plate which is subducting beneath the North American plate creating the 57 volcanoes that make up the Aleutian island chain.
Alaska is mostly made up of massive groups of rocks that are essentially slices of tectonic plates that have been tranported and attached onto the western margin of the North American plate as a result of these tectonic processes. These slices of the Earth's crust referred to as terranes carry with them evidence of the environments they formed in and the forces that have relocated, altered and uplifted them. Geologist use many pieces of evidence to understand their journey around the globe. Terranes are bounded by active or ancient faults that transported them to their present location. Portions of four terranes are found in the park – the Yakutat, Chugach, Wrangellia and Alexander terranes. One particular location where the complex geology of Glacier Bay's terranes come together is known as the
Tarr Inlet Suture Zone.