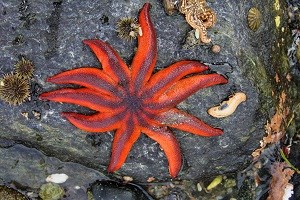 Starfish
Starfish are among the principal predators of the intertidal zone. Although several species are found locally, almost all that are seen in the Bartlett Cove area are the five armed mottled starfish, Evasterias. Starfish are echinoderms, related to sea urchins and sea cucumbers. When exposed at low tide a starfish will be inactive, but if it is picked up and turned over, it is frequently possible to see what it has been eating. A starfish feeds on such animals as mussels and snails by everting its stomach, or turning it inside out, through its mouth and into the shell of the prey. Digestion takes place outside the starfish's body.
In many places starfish play a very important role in the ecology of the shore. By feeding mostly on mussels, one species of starfish clears enough space (which would otherwise be choked by mussel beds) to allow a variety of other species to live in the area.
On the top side of the starfish, the side away from the mouth, are many tiny pinching organs. These perform several important functions, including fending off other starfish. The pinchers can usually be felt by placing the back of the hand on the starfish's upper surface. Hold the hand in that position for several seconds, then withdraw it slowly. The pinchers can be felt tugging on the hairs of the hand. On the bottom of the starfish, in the grooves, are hundreds of appendages called "tube feet." Each has a suction cup at the end. The tube feet are used for locomotion and for holding onto prey and rocks.