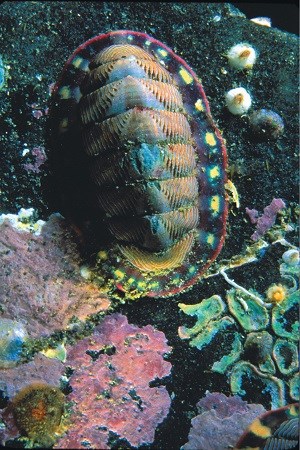 The beach hopper is an organism of the high intertidal zone. It can be found feeding on clumps of algae that wash up on the shore. Often called "sand fleas" because of their ability to jump impressive distances, beach hoppers are amphipods and are related to crabs and shrimp.
Small snails called periwinkles (Littorina) live in the highest intertidal zone and extend down into the upper part of the middle intertidal zone. They are found under and upon rocks and among the rockweed algae. Periwinkles spend more time out of the water than in it, and may even drown if kept underwater for very long.
Periwinkles feed by scraping small algae and diatoms off the rocks. This food source is shared by the limpets and chitons. All of these organisms have a special toothed "tongue" called a radula, which is scraped against the rock to remove the plant material.
Limpets (Notoacmea, Collisella) are small, cone shaped shells found on rocks throughout the intertidal zone. Although their shells are not coiled, they are closely related to snails. There are several species in the Bartlett Cove area, but they are difficult to tell apart. They survive in the high zone by trapping water underneath their shells. Lightly tap a limpet, and water will often ooze out. Limpets are incredibly tenacious. Unless they are surprised they are very difficult to remove from a rock. The force required to remove one that is only the size of a fingernail has been measured to be about 70 pounds!
Chitons are found in the middle to low intertidal zone in rocky areas. Chitons are mollusks with flattened bodies. They are oval in shape and have eight plates along their backs. Several species can be found in the Bartlett Cove area. The leather chiton (Katharina) is a large black chiton and reaches several inches in length. It can be identified by its color and the black leathery girdle that almost covers its plates. The hairy chiton (Mopalia) has hair-like growths around the margin. A small, very colorful chiton known as the lined chiton (Tonicella) can be found on pink encrusted rocks in the channels where strong currents occur.