Harbor Seal Tracking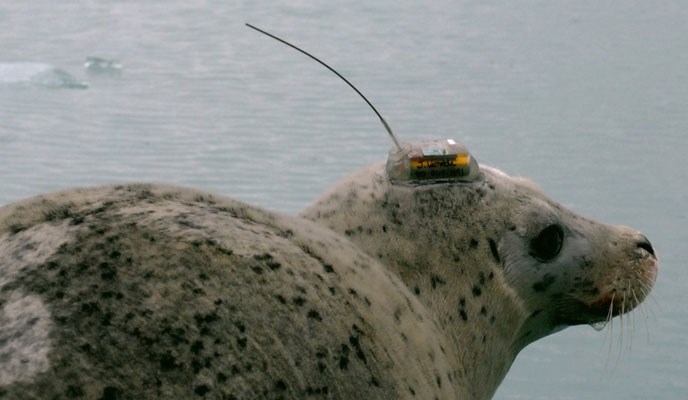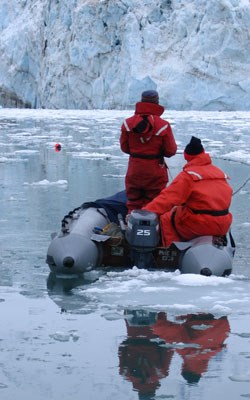 Where do Glacier Bay harbor seals go during winter?
A recent research study in Glacier Bay has been investigating where harbor seals from Glacier Bay spend the winter. Although evidence suggests that substantially fewer seals occur in Glacier Bay in late-summer and autumn, prior to this study it was unknown if seals moved beyond the boundaries of Glacier Bay, the regions that they traveled to, and the potential threats that they may encounter.
Juvenile and adult female harbor seals (n = 37) were captured in Johns Hopkins Inlet in the upper West Arm in Glacier Bay in September of 2007 and 2008. After seals were captured, small satellite-linked transmitters were glued to the fur on their heads. The satellite-linked transmitters transmitted data to Argos satellites and the data were later downloaded and processed to determine where the harbor seals traveled during winter. The transmitters were shed by the seals the following summer during molting.
Our primary study objectives were to:
assess the spatial distribution of seals during the post-breeding season (September-April),
estimate the utilization distribution of seals relative to the boundaries of the marine protected of Glacier Bay
quantify the degree of individual variability in residency patterns of seals in Glacier Bay, and
assess the degree of inter-annual fidelity of seals back to Glacier Bay the following breeding season (May-June).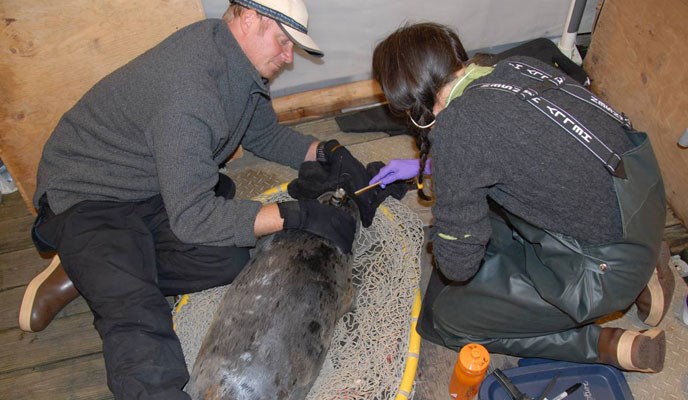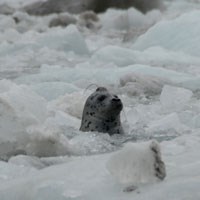 Primary Research Findings
During the post-breeding season (September - April), both juvenile and adult female harbor seals ranged extensively both within and beyond the boundaries of Glacier Bay.
Seals ranged extensively to areas throughout the northern portion of Southeast Alaska and along the continental shelf region of the eastern Gulf of Alaska from Sitka to Prince William Sound.
Some seals traveled up to 900 km away (minimum one-way distance) from Glacier Bay to areas in and near Prince William Sound in south-central Alaska.
There were three seals, one juvenile and two adult females, whose cumulative distance traveled during the post-breeding season exceeded 3,000 km.
Some seals were more resident to Glacier Bay spending the majority of the post-breeding season inside Glacier Bay whereas other seals were more non-resident.
One seal (PV08GB21), an adult female, spent 99% of days in this region and made several extended forays along the continental shelf, approximately 95 km from shore, over a 7-month period between September 2008 and March 2009.
Despite extensive migration and movements of seals away from Glacier Bay during the post-breeding season, there was a high degree of inter-annual site fidelity (return rate) of seals to Glacier Bay the following pupping/breeding season.
---

Permits For Research
All harbor seal capture, handling, and research was conducted under Marine Mammal Protection Act (MMPA) permit numbers 358-1787-00 and 358-1787-01 issued to the Alaska Department of Fish & Game and MMPA permit number 782-1676-02 issued to the National Marine Mammal Laboratory by National Oceanic and Atmospheric Administration (NOAA)-Protected Resources Division. Harbor seal capture, handling, and research was also authorized by Glacier Bay National Park under Scientific Research and Collecting permit numbers GLBA-2007-SCI-0003, GLBA-2008-SCI-0004, and associated Glacier Bay National Park and Preserve Waivers to park regulations.
Last updated: April 14, 2015