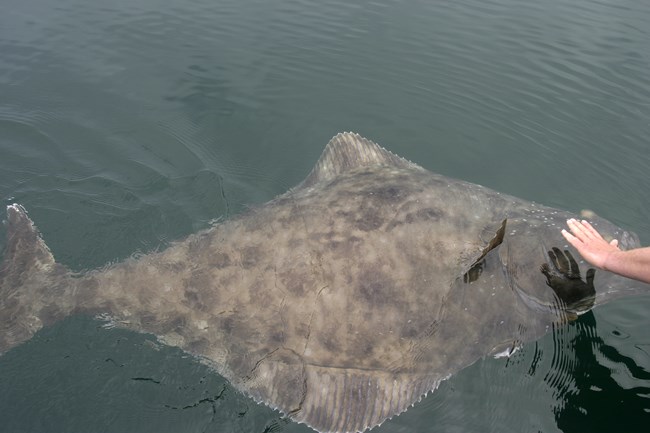 Glacier Bay is a sanctuary that Pacific halibut thrive in! As a popular commercial and recreational fishing species, halibut populations are in decline in many areas due to a history of overfishing. The protected waters of the bay offer a safe place for halibut to reproduce, and as a result the park has one of the healthiest remaining halibut populations.
Halibut Facts
The Pacific halibut (Hippoglossus stenolepis) was called "haly-butte" in Middle English, meaning the flatfish to be eaten on holy days.
The Pacific halibut has a flat, diamond-shaped body.
Pacific halibut are found in a broad arc of the temperate North Pacific Ocean, extending from Hokkaido, Japan, and the Sea of Okhotsk, to the southern Chukchi Sea and ending at Point Camalu, Baja California, Mexico.
Halibut are bottom-dwellers and live in waters to a depth of 1200 m.
Halibut are the largest of all flatfish. An adult halibut has been measured at 8 feet long, 500 pounds, and with a life span of more than 40 years!
Halibut have small scales embedded in the skin.
While halibut are born with an eye on each side of their head, as they grow, one eye migrates so that both eyes end up on the same side of their head (on the upper side), which enables them to see predators and prey better as the halibut lay camouflaged on the sea bottom.
The upper side of the fish tends to look like the ocean bottom. The underside is lighter, resembling the sky as seen from below. This protective coloring helps the fish hide from predators and prey alike.
Halibut spawn during the winter months. Most spawning takes place off the edge of the continental shelf in deep waters of 200 to 300 fathoms.
Male halibut become sexually mature at 7 or 8 years of age. Females attain sexual maturity at 8 to 12 years. Females lay 2-3 million eggs each year, depending on the size of the fish.
Fertilized eggs hatch after about 15 days. Free-floating eggs and larvae float for up to 6 months and are transported up to several hundred miles by deep currents of the North Pacific.
As the larvae grow they become lighter, rise nearer to the surface and migrate to the shallower waters, floating on the surface currents.
Larvae begin life in an upright position with eyes on both sides of their head. When they are about an inch long, the left eye migrates over the snout to the right side of the head, and the color of the left side fades.
When young halibut are about 6 months old, they settle to the sea floor in shallow, near-shore waters, where the protective coloring on their "eyed" side effectively camouflages them.