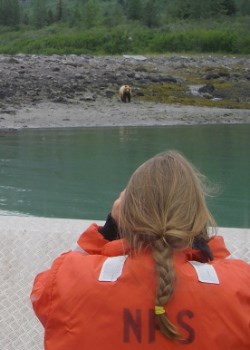 Park scientists have been studying the effects of vessel based bear-viewing on the behavior of brown bears in Glacier Bay. From 2008-2010, researchers experimentally approached 24 brown bears from vessels and recorded the distance from boat to bear using a Rangefinder Binoculars. During these approaches scientists documented the bear's behavior every 15-30 seconds.
Bear behaviors were categorized as either energetic gain (beneficial) or stress (detrimental) behaviors. Results indicate that energetic gain behaviors (feeding, resting, etc) did not change significantly with boat proximity, but the frequency of stress behaviors (vigilance, mouthing, etc.) increased significantly when a vessel approached a bear within 100 meters. In addition, the majority of bears approached within 100 meters fled short distances and several bears were displaced completely from the beach.
So if you are lucky enough to observe bears or other animals feeding along the shoreline of Glacier Bay this summer, please be respectful and give them space. 100 yards is a minimum.
Remember, if an animal changes its behavior because of you – you are too close!