Coastal Rainbow Trout

(Oncorhynchus mykiss)
Other names: Steelhead
Steelhead and rainbow trout are essentially the same species with varying life histories. Steelhead are the sea-run form (anadromous) while rainbow trout are typically stream resident their entire lives. Both forms may be present in park streams. However, this has not yet been substantiated. Steelhead are typically much larger in body size (average 20-30 inches, up to 40 inches and 20 pounds) because they spend time in the marine environment feeding and growing at rates (up to 1 inch/month) that are not possible for stream resident fish. Yet very few fish in this area meet the 36 inch recreational angling minimum size limit. Steelhead/rainbow trout are often confused with cutthroat trout. However, they lack small teeth on the floor of the mouth behind the tongue (see coastal cutthroat trout description). They can be distinguished from Pacific salmon species by a shorter head, a maxillary (upper jaw) that does not extend much beyond the posterior margin of the eye, and wide caudal peduncle. Ocean going fish are chrome bright, with a dark grey/black back, and fine dark spots on the dorsal surface and both lobes of the caudal fin. Spawning fish are typically darker in coloration and develop a pink or red stripe along the lateral line.

Abundance, distribution, and natural history
Only 16 records exist for this species with many observers reporting only species presence. Coastal rainbow and steelhead trout are known from only 8 different stream systems throughout the park but undoubtedly occur within many more. Adult fish have been reported in streams from April through September. Although few fish have been reported, returning steelhead spawning adults are likely most abundant in May. Those reported in April through June likely represent the anadromous steelhead form while fish reported in August and September likely represent resident type fish. Reports of steelhead and resident rainbow trout are often suspect because of the difficulty of discriminating coastal rainbow trout from cutthroat trout. Cutthroat in this area are often mistaken for rainbow trout because they do not consistently display the orange slash marks under the jaw. Steelhead typically spend two to three years in freshwater before migrating to sea. They return to their natal waters one to three years later to spawn. Unlike Pacific salmon, steelhead may survive after spawning to spawn in subsequent years after time in salt water. Repeat spawning steelhead typically comprise a small component (10-20%) of spawning populations.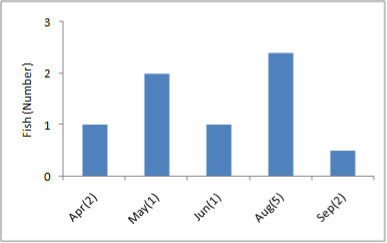 Conservation measures and concerns
Populations of this species throughout Southeast Alaska are typically small and susceptible to overharvest. Recreational steelhead harvest limits are conservative (1 fish daily; 2 fish annual limit) compared with other Pacific salmon species. The steelhead form of coastal rainbow trout are notoriously difficult to catch but are highly prized by recreational anglers. Most steelhead anglers practice catch and release because these fish are esteemed more for their quality as a game fish rather than table fare and very few fish achieve the minimum harvest size (> 36 inches) specified by angling regulations. Considerably more information is needed on the distribution and abundance of this poorly documented species.
Last updated: February 8, 2018