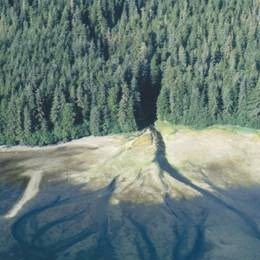 In 1994, Congress established a coastal resource program for the southeast Alaska region of the National Park Service. The Coastal Cluster Program is a collaborative effort between four National Parks, including Sitka National Historical Park (SITK), Klondike Gold Rush National Historical Park (KLGO), Glacier Bay National Park and Preserve (GLBA), and Wrangell-St. Elias National Park and Preserve (WRST), known collectively as the Southeast Alaska Coastal Group (SACG). The overall goal of this collaborative effort is to identify common and unique coastal resource issues among the SACG, and address these issues with inventory, monitoring, and research efforts. The Coastal Cluster Program works closely with Resource Management at their respective parks, the Southeast ALaska Network Inventory and Monitoring Coordinator, and state, federal, and univeristy cooperators in addressing coastal resource issues.
The major goals of the program can be summarized as:
Goal 1: Provide the SACG with programmatic guidance for the protection and management of the park's coastal resources. Assists park resource managers with project development and proposal writing. Participates in coastal projects in all parks and advises superintendents and resource managers on emerging and important issues affecting coastal resources.
Goal 2: Assists with SEAN (Southeast Alaska Network) and Central Alaska Network monitoring coordinators and technical committees with the identification and prioritization of coastal Vital Sign indicators. Assists in development of monitoring protocols and analysis of trend data at the park, regional and national level.
Goal 3: Identify research needs of the coastal parks and participates in proposal writing and agreements to implement the research. Participates in coastal research in the parks by taking direct lead on research projects and indirect leads by facilitating collaboration and cooperation with academia and other government or private organizations.
Current or recently completed projects of the Coastal Cluster Program include:
Assessing possible causes of decline of harbor seals in Glacier Bay National Park
Marine-derived nutrient indices and importance in coastal riparian watersheds
Subtidal health and contaminants in Sitka National Historical Park
Coastal Watershed Assessments for Wrangell-St.Elias, Glacier Bay, Sitka Historic, and Klondike-Goldrush National Parks.
Alternatives to Trend Analysis
Monitoring and identifying foraging and nesting habitat of Kittlitz's murrelets in Icy Bay
ShoreZone Mapping of coastal resources in Glacier Bay and Wrangell-St. Elias National Parks
4th Glacier Bay Science Symposium
Glacier Bay National Park Science Advisory Board
Quantifying the interaction between cruise ships and marine mammals and birds in Glacier Bay National Park