Chinook Salmon

(Oncorhynchus tshawytscha)
Other names: King Salmon, Tyee Salmon, Spring Salmon

Chinook salmon are the largest of the Pacific salmon species. Chinook salmon can grow as large as 53 inches and weigh over 100 pounds but usually average 30-40 inches and weigh between 20-40 pounds. They closely resemble and are often confused with coho salmon in ocean and spawning coloration (Figs. 1 and 3 vs 4 and 6). Chinook and coho salmon both have small black spots on the back and dorsal fin. However, distinguishing characteristics for chinook salmon include spots on both lobes of the caudal fin, and black gum coloration in the mouth at the base of the teeth (Fig. 2). Chinook are strong fighters and highly prized by anglers.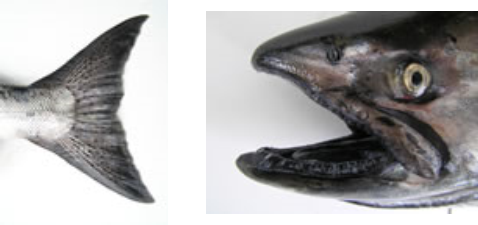 Abundance, distribution, and natural history
Though chinook frequent park marine waters they are the least abundant salmon species and few spawning populations exist. The Alsek River system contains the best documented spawning park population with records from August 1964 and July 2005. These represent late spawners as chinook typically enter Alaska rivers during May and June. Limited evidence for Doame and Seclusion river spawning populations also exists. Recreational anglers target chinook entering the East Alsek/ Doame estuary during their presumed June run up the Doame River. However, some observers assert these are actually Alsek River fish that temporarily hold here before heading 2.5 miles west up the Alsek River. Nine recorded observations of 2-33 individual chinook, mostly during June, exist from 1986-2005 for this system. One adult in spawning coloration was documented up the Doame River by NPS staff during August 2010 and one juvenile fish (B. Wing, NOAA NMFS verified) was captured in the East River estuary during September 2005. This suggests a small Doame River population exists. Three adults in spawning coloration were similarly documented up the Seclusion River during September 2010.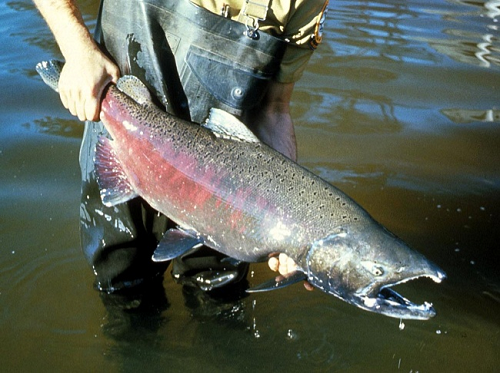 Conservation measures and concerns
Annual catch limits for chinook salmon throughout Southeast Alaska are set by the Pacific Salmon Treaty and implemented by the Alaska Department of Fish and Game. Sport and commercial catch limits for chinook salmon are often set at a fraction of limits for other species due to their comparatively low abundance. Chinook salmon caught in Glacier Bay's marine waters originate from other river systems throughout Alaska and the Pacific Northwest and are thus cooperatively managed with input by Alaska, British Columbia, Washington, Oregon, and California fisheries interests and managers. Identification of spawning habitat in the Doame and Seclusion rivers and documentation of other spawning populations are ongoing management goals for this Glacier Bay species.
Last updated: February 8, 2018