Interpretive Themes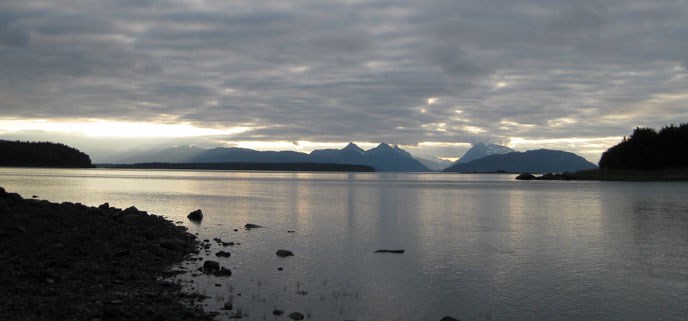 Interpretive themes convey park significance. Primary interpretive themes are the key ideas through which the park's nationally significant resource values are conveyed to the public. They connect park resources to the larger ideas, meaning, and values of which they are a part. They are the building blocks—the core content—on which the interpretive program is based. Each primary theme may connect to a number of specific stories or subthemes. These elements are helpful in designing individual services, ensuring that the main aspects of primary themes are addressed.
Vision: Glacier Bay is a journey back to the world as it once was, in an ice age. Dramatic glacial retreat exposes an elemental, primordial, yet resilient land that hosts a succession of marine and terrestrial life. Glacier Bay is an opportunity to see how the physical world shapes the biological. The story of Glacier Bay is one of dynamic change in the wake of dramatic glacial movements in one of the few remaining intact ecosystems left on the globe.
Theme:
Glacier Bay's story is one of dynamic change in the wake of dramatic glacial movements.

Subthemes:

Earth's most fundamental processes can be observed in a day and measured within a lifetime.
Nowhere else is there a record of glacial retreat so complete and compelling.
Vision: Long before there were written records, there were stories. Tlingit elders told of an ancestral homeland covered by advancing ice. For the Tlingit, Glacier Bay is woven into the tapestry of their lives. Throughout time, Glacier Bay has continued to be a powerful place that inspires cultural expression in the scientist, the artist, the resident, the traveler, and those who make their livelihood from the sea. Glacier Bay continues to offer inspiration as we each endeavor to explore our connections to this dynamic landscape that is both old and young.
Theme:
Glacier Bay inspires people of many cultures to explore their connections to this dynamic landscape.

Subthemes:

The dynamic landscape of Glacier Bay is reflected in the names, traditions and society of the Huna Tlingit clans.
As the original people, the Huna Tlingit maintain strong spiritual ties to and an abiding sense of stewardship towards Glacier Bay.
Huna Tlingit and Glacier Bay National Park recognize a painful history and are working together for renewal and continuance of this important cultural connection.
Glacier Bay provides an example of how a culture develops from and reflects a landscape.
Vision: He was so captivated by the land, he proposed a park. Botanist, William Cooper spearheaded the effort to give the world not only a place to view glaciers, wildlife, and grandeur, but also a living laboratory. Glacier Bay has inspired a long line of dedicated scientists to devote their careers to unlocking the glacial past, to researching current terrestrial/marine life, and towards understanding Glacier Bay's significance on a global scale.
Theme:
One researcher's efforts at preserving a living laboratory gave the world a park to study and enjoy through the ages.

Subthemes:

Science was at the heart of the enabling legislation, and today science continues to play an integral role in management decisions. What scientists learn from observing processes at Glacier Bay may one day foretell of changes to the region, the state, the continent, and the world.

As global climate patterns change, scientists can look to Glacier Bay to capture a glimpse of the world as it was, and perhaps to estimate what it might become.

In Glacier Bay,there is an opportunity to study the interactions between marine and terrestrial ecosystems.
Vision: Glacier Bay is a globally significant marine and terrestrial wilderness sanctuary -a place that offers human solitude and a remote wildness that is rapidly disappearing in today's world. Glacier Bay is a place of hope--for the continued wisdom, restraint, and humility to preserve samples of wild America, the world as it was. Glacier Bay is part of one of the largest internationally protected Biosphere Reserves in the world, and it is recognized by the United Nations as a World Heritage Site.
Theme:
Glacier Bay is a place of hope - for it preserves a sample of wild America.

Subthemes:

Glacier Bay is one of the few remaining intact ecosystems on the globe.
Here is a place to experience wilderness on its own terms.
Glacier Bay serves as a reference point-a chance to experience the world of our ancestors and save it for our children.
Last updated: October 27, 2016