Following the quake of 1899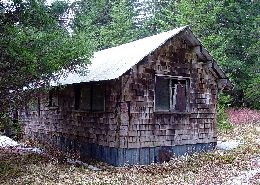 The age of tourism and exploration in Glacier Bay came to an abrupt halt soon after the Harriman party departed. In September 1899, a massive earthquake shattered the Muir Glacier. Masses of floating ice prevented ships from closely approaching the glacier for at least a decade, and the steamship companies removed Glacier Bay from their itineraries.
Over the next few decades Glacier Bay belonged to a hardy assortment of scientists and adventurous entrepreneurs, as well as native seal hunters, fishermen and egg-gatherers. A number of colorful characters, including the gold miners Joe and Muz Ibach of Reid Inlet and the hermits Jim Huscroft of Lituya Bay and Buck Harbeson of Dundas Bay, enlivened the local landscape.
In addition to rugged individualists who pursued mining, trapping, homesteading, fox-farming and other small-scale ventures, there was at least one successful corporate operation within what is now Glacier Bay National Park, a salmon cannery at Dundas Bay. Relying on a mixture of native, white and Chinese labor, the cannery was a large and prosperous operation between 1900 and 1931, when the general lower demand and prices paid for salmon because of the Great Depression resulted in its closing. During the early 1940s, most of the structures associated with the cannery were dismantled, since the site had by then been included in the national monument.
Last updated: April 14, 2015