Distance Learning Programs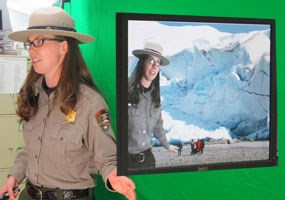 We bring Glacier Bay to your classroom!
Humpback whales, glaciers, history, wilderness and wildlife. Have you ever wanted to take your students into the wilds of Glacier Bay, Alaska, but your boat wasn't big enough? Well now our Park Rangers are ready to bring Glacier Bay directly to YOU. If your school has video conferencing equipment, then your class has the opportunity to experience LIVE interactive visits with a park ranger at Glacier Bay National Park. During the program, students will be interacting with the ranger, answering and asking questions!
Our programs are appropriate for grades K-12. The programs are free and a great way to introduce your students to this amazing national park and to the vast state of Alaska.
Scheduling and Registration:
All classes are free and requests are taken in the order in which they are received beginning on December 1. Classes are available from January through February only. There are two ways to register for a class:
Questions? Use the email link above, or contact us directly at: glba_education@nps.gov
Transcript
Long Distance Learning at Glacier Bay National Park.
Hi. This is Ranger Steve welcoming you to beautiful Glacier Bay National Park. Teachers have you ever wondered about taking your students to experience Glacier Bay in Alaska, but the challenges were too daunting? "We can bring Glacier Bay to you"
With today's technology you can do the next best thing. I invite you to take a trip with your students to explore Glacier Bay through a Long Distance Classroom. Using video-conference equipment, your students interact Live with a Glacier Bay ranger, learning about glaciers, wildlife, plants, human history, and the National Park Service. During these virtual visits, students will be able to ask and answer questions with the ranger.
You may be asking yourself some questions about these programs. Why connect to Glacier Bay through these Long Distance Classrooms? The benefit of linking up your students is that they will be talking directly with a park ranger that lives in Alaska and can answer many questions about living on the edge of this wilderness.
These programs are fun, informative, interactive and FREE!
When can I schedule these programs? Glacier Bay offers these classroom programs from November through the following February. The park starts accepting reservations for these programs on Oct 1st.
How can teachers sign up for a Long Distance Classroom? The easiest way is to visit the CILC website and search for Glacier Bay programs. Glacier Bay has a multitude of programs available depending on interest and student grade level. Select the program you would like presented to your students and push the button called "Request this Program Now" Fill out your information and the park will confirm your date and time. It's that simple. A second way is to contact the park's Education Coordinator directly to set up the program you would like schedule.
After your date and time have been confirmed, we will schedule a test connection to ensure both video conference units are compatible. We are looking forward to bringing Glacier Bay National Park into your classroom and interacting with your students.
See you soon.
Visit our keyboard shortcuts docs for details
Duration:

2 minutes, 24 seconds
Fun, Informative, Interactive, and Free! Discover how Glacier Bay rangers can now share the wonders of wild Alaska with your classroom. In this short video, Ranger Steve answers all your questions...how it works, what equipment do you need, how to sign up, etc. We look forward to visiting your class!
Last updated: February 28, 2023