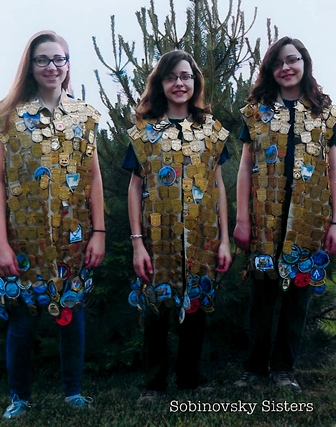 Super Junior Rangers!
The Sobinovsky family visits Glacier Bay!  Glacier Bay Rangers met Maria, Lisa, and Gina Sobinovsky yesterday.  They live in West Virginia and enjoy visiting National Park areas with their parents (Glacier Bay was their 379 park unit visited!).  
Maria, Lisa, and Gina enjoy doing activities associated with Junior Ranger programs.  They created "coats" made of the badges and patches they earn.  Mom says these coats are getting heavy!  A couple days ago they earned their Glacier Bay Junior Ranger badge when they traveled up to see the glaciers. It was Maria's 372nd badge earned in 12 years (she began collecting the badges when she was 3 years old).  Her younger sisters have collected 320.  
Yesterday they earned a special "ocean ranger badge" (a new National Park youth activity for 2015).  All sisters love to learn about the different National Parks they visit and are wonderful advocates to take care of these special places.  Today the family continues their travels through Alaska. They will visit Sitka National Historic Site in Sitka then travel to Haines where they plan to drive into the Interior of Alaska--perhaps visiting Gates of the Arctic, Denali, and other park units. 
Glacier Bay rangers wish them well as they continue to learn and share their experiences.
How many National Parks have you visited? --Or wish to visit? Have you completed any Junior Ranger programs at the National Parks you visited?