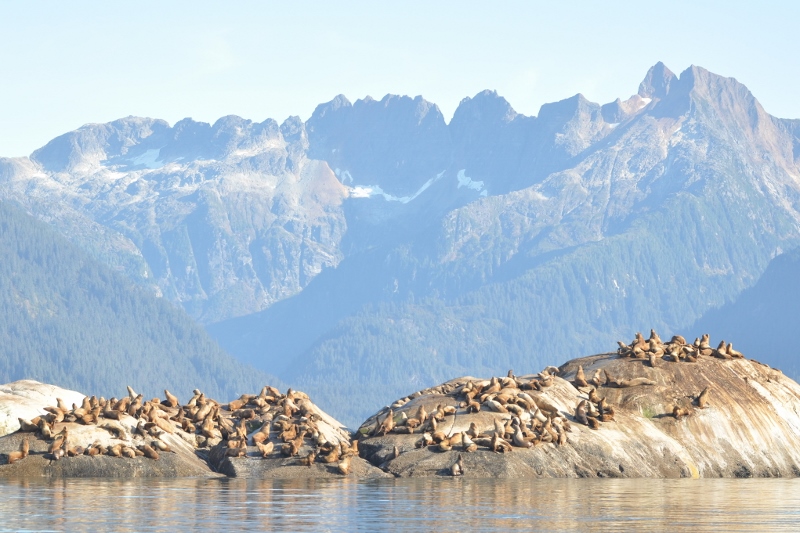 Steller sea lions hauled out on South Marble Island and a clear view of the Beartrack Mountains. 
Humpback whale biologist Janet Neilson conducted a late season whale survey earlier this week in Glacier Bay and shared some notes and photos about her day on the water. 
Humpback whales 
The number of humpback whales in Glacier Bay has dropped off significantly with the arrival of fall. Janet found four whales feeding around Flapjack Island. Despite excellent visibility and unseasonably calm seas, no other whales were found during a search of the lower portion of Glacier Bay. The whales at Flapjack were identified as 7-year-old male #2161, 10-year-old male #2311, 12-year-old whale #1836 (sex unknown), and adult female #1432 (age unknown). It would be interesting to know what these whales are feeding on around Flapjack, which is often a whale hotspot in the fall.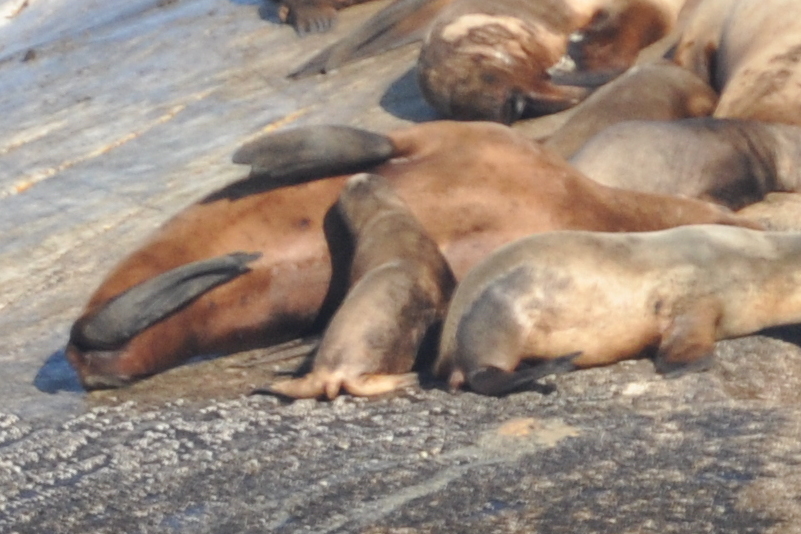 A Steller sea lion pup nurses at South Marble Island. 
Sea lions 
Janet had some notable observations of sea lions at South Marble Island. While South Marble Island is a haul out for hundreds of Steller sea lions, amidst the din of Steller sea lion sounds, she heard a California sea lion. California sea lions bark distinctively, while Steller sea lions growl. She also photographed four branded sea lions hauled out on the island. The Alaska Department of Fish and Game brands some Steller sea lions as pups with brands that will grow with the animals, allowing biologists to track individuals over many years. One animal had a brand (#T202) from a rookery in Kodiak , which means this individual swam over 500 miles to rest on South Marble Island! Another brand was from a rookery north of Sitka, about 100 miles away. The other two brands were from Graves Rock, on the outer coast of Glacier Bay National Park. A nursing sea lion pup and mother was another cool sea lion observation at South Marble Island.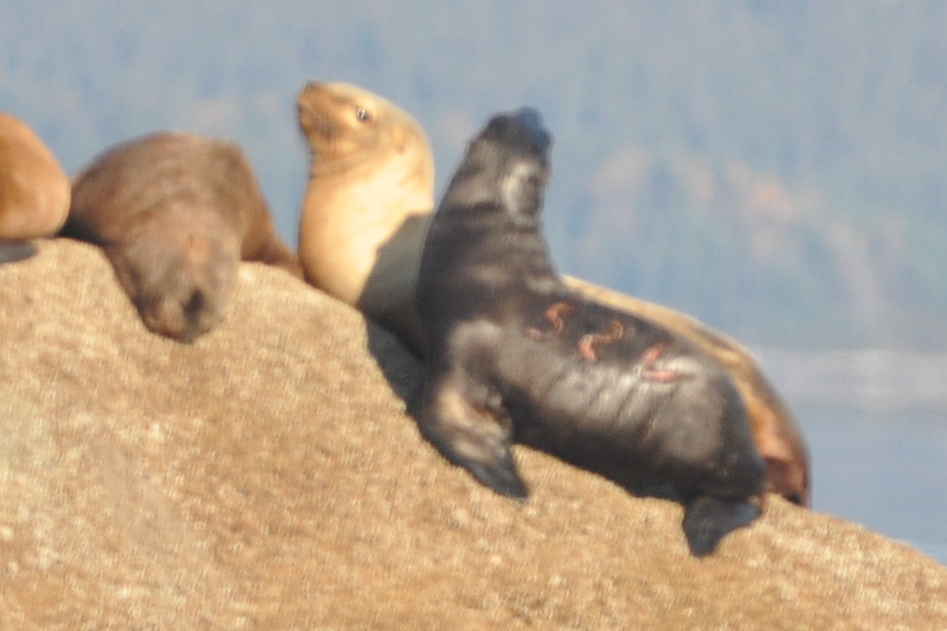 A young sea lion branded at the Graves Rock rookery in July.
Other observations 
Janet saw sea otters throughout the survey, including two rafts of 20-30 animals just outside Bartlett Cove, where large groups of otters are seldom seen. There was also a surprisingly large number of marbled murrelets in the bay. By this time of year, marbled murrelets have usually headed to open waters for the winter. Glacier Bay has experienced an unusual number of sunny days this fall and Janet noted the gorgeous light on the mountains and the lack of other boats on the water. It won't be long before the snow starts to fly in Glacier Bay, but for now the sun is shining, illuminating a wild and beautiful landscape.