A humpback whale breaches in lower Glacier Bay on May 30, 2019. (NPS photo taken under NMFS
ESA/MMPA
Permit No. 21059)
Following a five-year period (2014-2018) of dramatic decline in humpback whale abundance during and after the Northeast Pacific Marine Heatwave, in 2019 we documented two calves and an encouraging uptick in whale numbers. Foraging conditions last summer appeared to be good, and we saw the return of several reproductive females who had not been sighted in recent years.  
Key findings include:
We documented 149 whales, a 48% increase compared to 2018 when we documented 101 whales.

Correcting our whale counts for survey effort (which was slightly above average in 2019) reveals a 25% increase in abundance compared to 2018.

With or without effort correction, whale abundance remains almost 40% lower than at its peak in 2013.

In Glacier Bay proper, the number of whales increased more than threefold (167%) from 45 whales in 2018 to 120 whales in 2019, while in Icy Strait, the number of whales increased only slightly (6%) from 72 to 76 whales.   

These increases are partially due to the return of 12 well-known whales that had been missing in 2018, but 29 of 66 whales with a history of strong site fidelity to Glacier Bay and Icy Strait remain missing.

We documented only two mother/calf pairs (crude birth rate CBR = 1.3%) making 2019 the sixth consecutive year of low reproductive success compared to 1985-2013 (average CBR 9.3%).

We were surprised to find that the incidence of emaciation appeared to increase in 2019 after declining in 2018 (2016 = 13%; 2017 = 24%; 2018 = 17%; 2019 = 23%), although these data are not collected systematically. Emaciation is most likely attributable to lack of food but may also indicate illness or disease.

Forage fish, especially capelin in Glacier Bay, appeared more abundant than in recent years. Favorable foraging conditions are likely responsible for the comparatively long whale residence times we observed in 2019.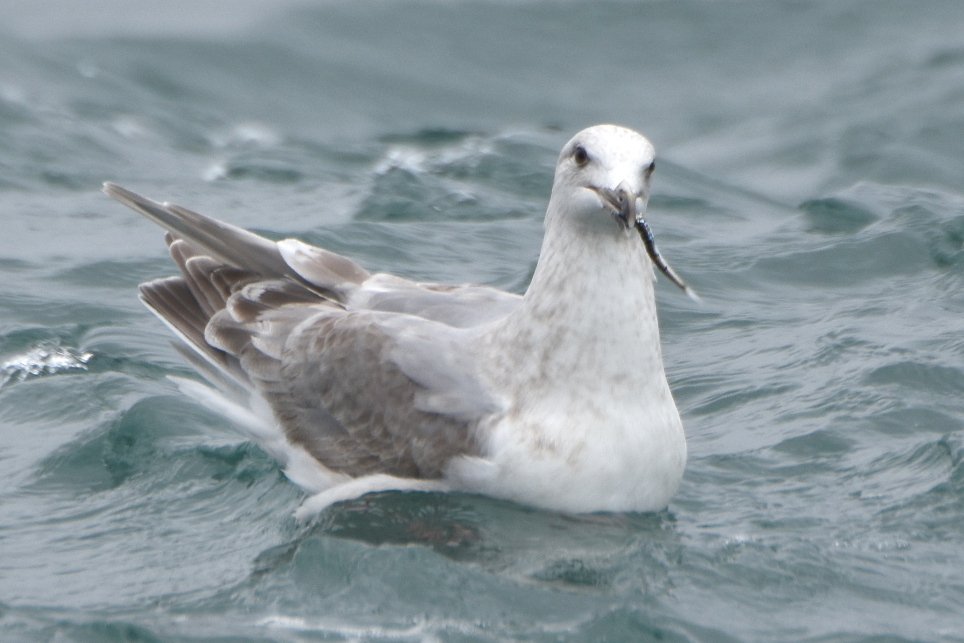 Gull holding a lanternfish (Myctophidae spp.) in lower Glacier Bay on April 23, 2020 near a humpback whale that was likely feeding on the same prey. Lanternfish are important prey for many marine predators and contain some of the highest levels of fat of all forage fish.
On April 23rd, we were able to get our 2020 field season underway – social distancing is no issue since we are accustomed to conducting our boat-based whale surveys solo. Thankfully, the COVID19 pandemic did not force a break in our long-term monitoring program: 2020 is our 36th year of consistent survey effort in Glacier Bay and Icy Strait. This annual monitoring program is one of the world's longest and most complete time-series of data on a baleen whale population.
Surveys so far indicate that whales are numerous, and that there are at least FIVE mother/calf pairs in our area! This is very welcome news, especially during these challenging times when good news can be hard to come by. We're hoping for a baby boom and oceanographic conditions that support a strong feeding season. Stay healthy and stay tuned for additional updates!
Whale #1898 with her first known calf in Icy Strait on May 5, 2020. (NPS photo taken under NMFS ESA/MMPA Permit No. 21059)