A Kittlitz's murrelet with a fish.
At dusk, if you listen carefully, the woods of Bartlett Cove are filled with soft whistling calls. Loggers of the Pacific Northwest called the makers of these calls "fog larks;" the most common name is marbled murrelets. The pristine waters and woods of Glacier Bay are home to a significant portion of the world's murrelets, and this week the park research vessel, the Fog Lark, is conducting surveys of these mysterious seabirds. 
Two species of murrelets can be found in Glacier Bay: marbled and Kittlitz's. Marbled murrelets usually nest in old growth forest and are generally found lower in the Bay. Kittlitz's murrelets are also known as glacier murrelets and have a strong affiliation to the silty water that comes off glaciers. To most visitors, both species resemble flying baked potatoes—small, drab, and brown. They can be spotted zipping through the air just above the water, at speeds usually around 45 miles per hour, but they have been known to reach speeds of more than 100 miles per hour. 
Populations of these birds have been declining and Glacier Bay is one of the last places with a strong population. The rich cold waters of the bay hold plenty of small forage fish and the glacial outwashes and pristine forests provide nesting habitat. The work that the crew of the Fog Lark is conducting is part of an ongoing monitoring program that will help park managers track the population of these unique seabirds. Will you see fog larks on your next trip to Glacier Bay?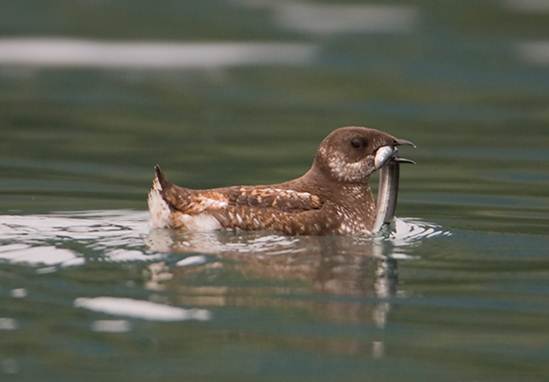 A marbled murrelet with a fish.