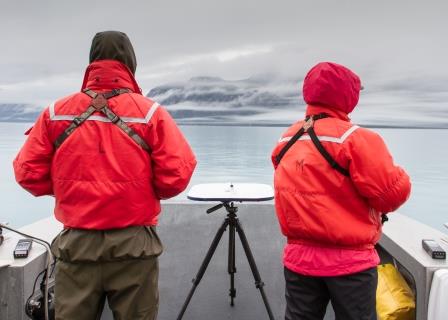 This year, Fog Larks enjoyed ample amounts of low-hanging clouds.
A couple of weeks ago, the National Park Service's
Southeast Alaska Network
completed its seventh year of murrelet monitoring in Glacier Bay. In order to estimate the abundance and spatial distribution of marbled and Kittlitz's murrelets, the survey team follows straight line transects throughout the bay and counts how many individuals of each species they see. When it's all over, more than 150 miles of transects have been surveyed! Now that the field work is done, Southeast Alaska Network scientists are back in the office crunching data and developing this year's abundance estimates. They typically release the results in the fall. 
Through the years, murrelet abundance in Glacier Bay has fluctuated greatly. Annual Kittlitz's murrelet populations have ranged from about 7,000 birds to over 16,000, while marbled murrelets have ranged from about 29,000 to over 84,000! Reasons for these fluctuations could include differences in breeding success each year, available food supplies in Glacier Bay, and changing glacial habitat conditions. 
Although Glacier Bay is a place of constant change, some things have remained constant the past seven years. Avid birders looking to check Kittlitz's murrelet off their life list should look in Reid Inlet, the west side of Russell Island, and near Garforth and Sturgess Islands. These areas continue to be Kittlitz's hot spots. 

SEAN would especially like to thank this year's survey volunteers: Jon Barton, Toni De Santo, and Kelly Nesvacil.
All of the information available on NPS murrelet monitoring can be found
here
.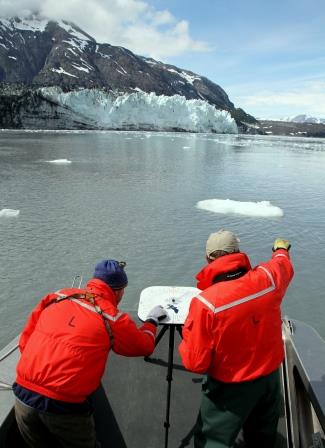 Surveyors record the angle and the distance to a group of murrelets.