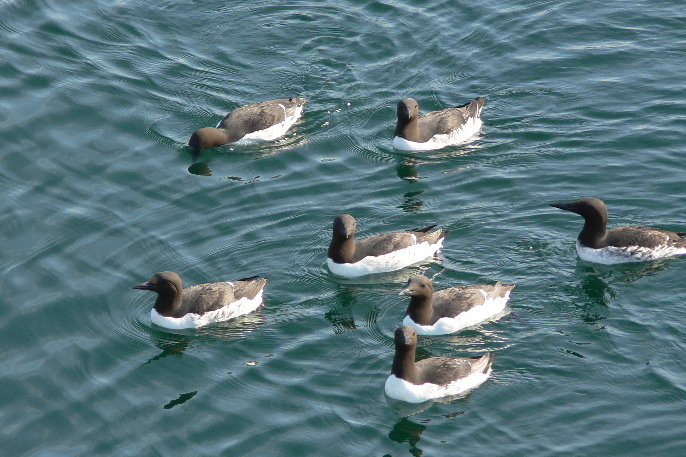 Lately, it's been hard to tune into any news source without hearing sobering news about warm ocean water, toxic algae blooms and die-offs of whales and seabirds in a very wide area of the Pacific Ocean. The North Pacific has been experiencing an unprecedented rise in temperature (a.k.a ."the warm blob") and a record-breaking rapid accumulation of or microscopic marine algae known as phytoplankton (a.k.a. an algal bloom) along its coastal waters from the Aleutian Islands to the coasts of southern California. For example, Ketchikan, Alaska was reported to have experienced its largest plankton bloom in at least 30 years. Some species of algae produce neurotoxins that get passed up the food chain and become harmful toward marine mammals and humans. Because the oceans are so vast, and humans are primarily land-bound, it seems likely that the geographic scope of these anomalies is wider than has been documented.
As of mid-August, NOAA has documented an ongoing large whale mortality event in in the Western Gulf of Alaska that so far involves 30large whales including: 11 fin whales, 14 humpback whales, 1 gray whale and 4unidentified whales. Most carcasses have been moderately to severely decomposed, and not recovered, so only one has been sampled. In British Columbia, between August 7-13, 4 humpbacks and 1 sperm whale were reported dead: two of these have been necropsied to try to determine the cause of death.  Getting the results of the lab work associated with whale necropsy sampling typically takes weeks or months.
Kodiak Island residents have been reporting a large number of common murres washing up dead on local beaches. A common murre die-off was reported in early June along the Alaska Peninsula and birds were seen in unusual numbers in near-shore areas with many appearing weak and approachable by skiff.
While it seems likely that these events are related, the answer to that question remains unknown. With the ocean changing at such a rapid rate, it is extremely difficult for scientists to make causative linkages or future predictions because this is completely new territory. The only obvious change we've seen in the Glacier Bay area is an unusually high numbers of murres, which have perhaps been displaced from their usual offshore Gulf of Alaska habitat. In the Glacier Bay and Icy Strait area, the number of humpback whales and the number of calves was relatively low, but cruise ship bridge teams and researchers reported high whale abundance in in Frederick Sound and Stephens Passage. In mid-July, researchers estimated up to 400 whales between Five Finger Light and Cape Fanshaw. So far, we have not observed or heard reports of unusual seabird or whale mortality in the inside waters of Southeast Alaska.
I've collected a number of articles on this topic at the links below. It's important that we keep ourselves informed about these events, although it is not lighthearted reading material.
2015Large Whale Unusual Mortality Event in the Western Gulf of Alaska
Massive seabird die-off hits Kodiak(KTOO News 16Sept2015)
Extreme heat in the North Pacific: The Blob
Toxic algae blooming in warm water from California to Alaska
Record-setting bloom of toxic algae in North Pacific