Earlier this month, Jamie Womble, NPS Wildlife Biologist, and Lou Taylor-Thomas, GLBA Ecologist, completed three days of aerial surveys for sea otters.  Sea otters are one of the most numerous marine mammals in Glacier Bay and play an important role in structuring nearshore marine communities. 
Womble noted:  
"The weather conditions were high overcast and calm winds which made for great flying conditions.  We used a Nikon D810 camera (36 megapixel-sensor) with an 85 mm Zeiss lens to photograph sea otters along transects in Glacier Bay.  The camera was attached to a tripod head and mounted to a plywood platform that was secured in the belly porthole of the aircraft.  The surveys were conducted from ~700 feet.  Approximately, 6,600 photos were collected during each survey.  
The high-quality digital images will provide a permanent record of sea otter distribution in Glacier Bay and will also be useful for quantifying habitat covariates, such as kelp.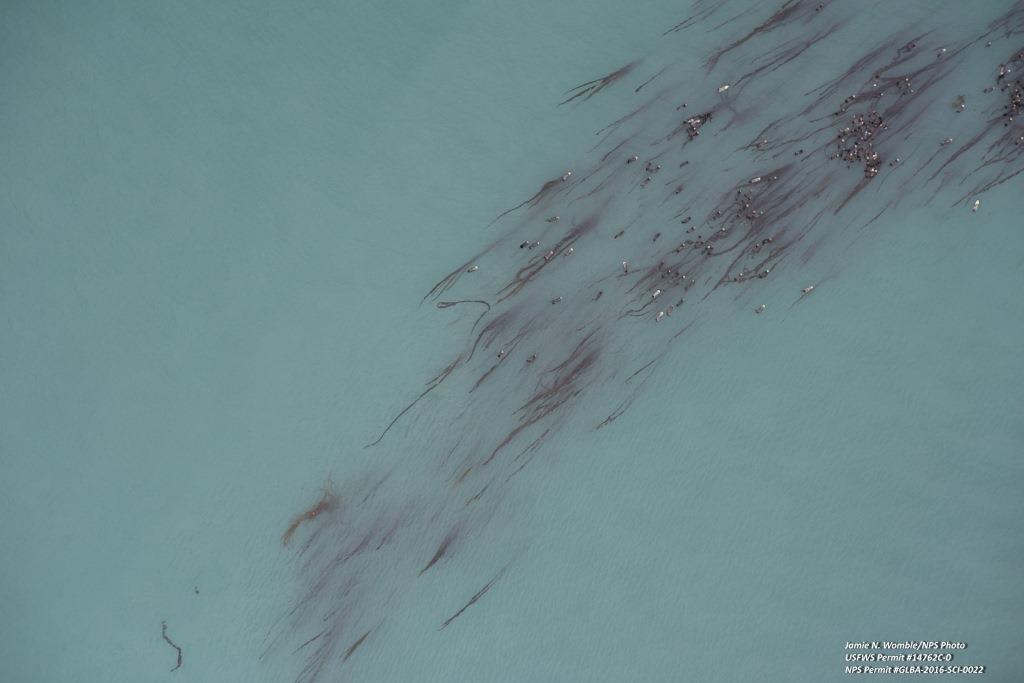 A typical image from the survey. The original photo is of high quality but has been reduced for this blog. 
During the next few months, we'll be processing the digital imagery to estimate the spatial distribution and abundance of sea otters in Glacier Bay using hierarchical models (Williams et al. 2017a).  This is the first sea otter survey that has been conducted in Glacier Bay since 2012 (Esslinger et al. 2013).  In addition, this is the first aerial photographic survey of sea otters in Alaska (and range-wide) to use this aerial photographic methodology (Williams et al. 2017b), which was initially developed for surveying harbor seals  in tidewater glacier fjords (Ver Hoef & Jansen 2014; McNabb et al. 2016) and Arctic phocids on sea ice (Conn et al. 2014).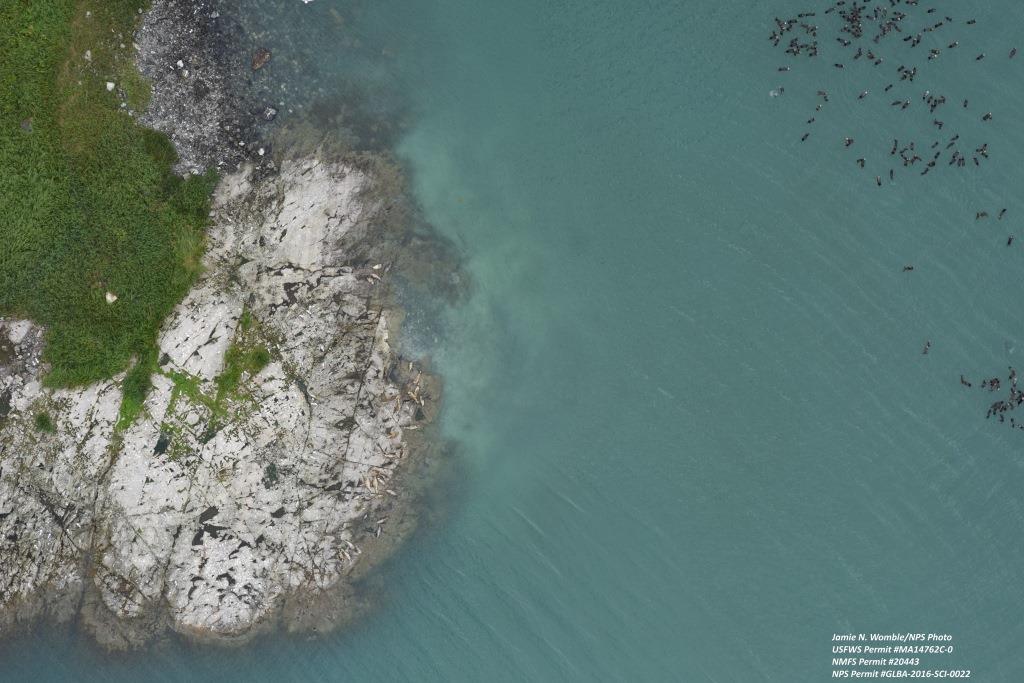 Sea otters and harbor seals are visible in this survey image.
This new project is a collaboration with NPS Southeast Alaska Inventory & Monitoring Network, Glacier Bay National Park (Jamie Womble, Mike Bower, Lou Taylor-Thomas, Bill Johnson), Colorado State University (Mevin Hooten, Perry Williams), USGS Alaska Science Center (George Esslinger, Dan Esler, Dan Monson), and Southwest Alaska Inventory & Monitoring Network (Heather Coletti).   
All images were collected under USFWS Scientific Research Permit # MA14762C-0, NMFS Permit # 20443, and NPS Permit GLBA-2016-SCI-022.   
Links to Recent Publications from the Glacier Bay Sea Otter Project
Williams, P.J., Hooten, M.B., Womble, J.N., Esslinger, G.G., Bower, M.R., Hefley,T.J. (2017a) An integrated data model to estimate spatio-temporal occupancy, abundance, and colonization dynamics.  Ecology 98 (2):  328-336. 
Williams, P.J., Hooten, Womble, J.N., Bower, M.R. (2017b).  Estimating occupancy and abundance using aerial images with imperfect detection.  Methods in Ecology and Evolution 2017;00:1–11