Hot off the press! Click
here
to read our 
2015
humpback whale monitoring report online. The abstract is included below.  
Stay tuned for the
2016
report in the next few months.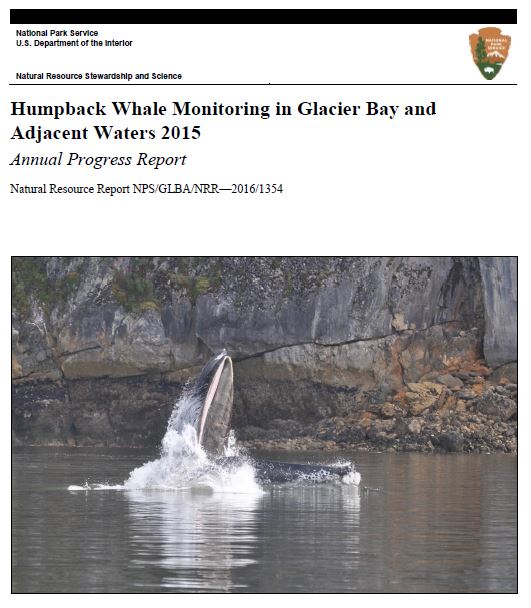 Abstract
Migratory humpback whales (
Megaptera novaeangliae
) use southeastern Alaska as summer feeding habitat, including the waters in and around Glacier Bay National Park and Preserve (GBNPP). This report summarizes GBNPP's humpback whale monitoring program in 2015, the thirty-first consecutive year of consistent data collection in Glacier Bay and Icy Strait (GB-IS). In June-August, we documented 166 unique whales in GB-IS, which represents our lowest count since 2008. Correcting for survey effort, which was lower than average in 2015, revealed an 8% increase in whales in GB-IS compared to 2014. However, by all metrics we have documented a decline in whale use of the GB-IS study area beginning in 2014 (22% decline) compared to 2009-2013, with this trend driven in large part by declines in Icy Strait. Possible reasons for these declines include possible shifts in whale prey and anomalously warm ocean temperatures in the northeastern Pacific. A majority (64%) of whales met our definition of 'resident' (remaining 20 or more days in the study area) but several historically resident whales were identified on just one day, indicating a break in their strong site fidelity to GB-IS. We documented five mother/calf pairs and the lowest crude birth rate (3.0%) since 1984. For the first time, we detected herring near whales feeding in Glacier Bay. In June, a humpback whale became briefly entangled but released itself from commercial longline gear in Glacier Bay. Our findings highlight the value of long-term monitoring in documenting the recovery of an endangered species.