NPS Book Information
The NPS GIS Program is in the process of creating a new book about the use of GIS for park stewardship. The new book showcases NPS GIS with photos, maps, and descriptions of GIS analysis and tools. About 70 NPS authors have contributed materials for 12 different chapters. Here is a preview of the cover: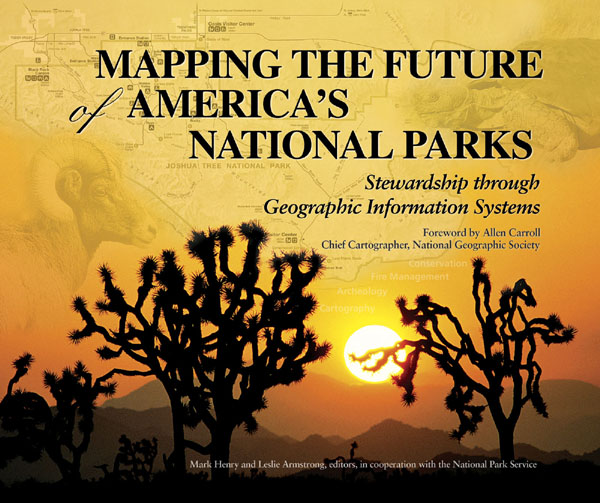 Book Cover
Chapters:
Archeology
Dave Frederick - Colonial NHP
Steve Klingler - Western Artic National Parklands
Cathy Schwemm and Mike Kaberline - Channel Islands NP
Matthew Wilson - Intermountain Support Office
Ecosystems
Mark Adams and John Portnoy - Cape Cod NS
Greg Daniels - Alaska Region
Ann Hebig - Devils Tower NM
Frank Partridge - Big Cypress National Preserve
Phoebe Vanselow and Lewis Sharman - Glacier Bay NP
Historic Preservation
Carl Drexler - Wilson's Creek NB
John Knoerl - National Center for Cultural Resources
Cheryl Sams - Northeast Region
Anne M. Wolley Vawser - Fort Smith NHS
Andrew Waggener - Salinas Pueblo Missions NM
Human Impacts
Allison Graves - National Park of American Samoa
Joni Piercy - Alaska Support Office
Bob Stobe - Alaska Support Office
Mapping Parklands
Tim Connors - Capitol Reef NP
Bill Eichenlaub - Glacier Bay NP
Thomas Fake - Kalaupapa NHP
Jess Grunblatt - Alaska Support Office
John Pinamont - Alaska Support Office
Dave Schirokauer - Point Reyes NS
Roads and Trails
Melanie Beck - Santa Monica Mountains NRA
Riley Hoggard - Gulf Islands NS
Richard Menicke - Glacier NP
Kerri Mich - Intermountain Support Office
Visitor Recreation
Riley Hoggard - Gulf Islands NS and and Jeffrey Reed - University of West Florida

Marie Frias Sauter - Chesapeake and Ohio Canal NHP
Larry Murphy - Submerged Resource Center
Marianna Young - Saint Croix/ Lower St. Criox NSR
Wildlife Management: National Park Service Use of GIS to Manage Habitat for Species
Brian Barns - Organ Pipe Cactus NM
Neal Darby - Great Basin NP
Dr. Donna J. Shaver (USGS) and Darrell Echols - Padre Island NS
Patrick Flaherty - Pinnacles NM
Seth P.D. Riley and Denise Kamradt - Santa Monica Mountains NRA

Read the technical articles in the book.
---
October 08, 2003