News Release
National Junior Ranger Day activities at Gettysburg and Eisenhower Parks, April 21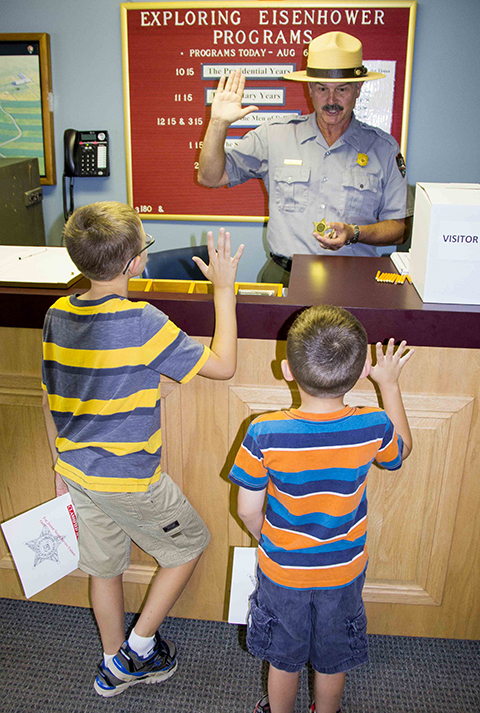 News Release Date:
March 29, 2018
Contact: Katie Lawhon, 717-338-4402
For Junior Ranger Day on April 21 the National Park Service is inviting younger visitors to Gettysburg National Military Park and Eisenhower National Historic Site for special activities.  
Gettysburg National Military Park: Special programs include 
Junior Ranger activity booklets
 and "Hands on History" carts at the Gettysburg National Military Park 
Museum and Visitor Center
 throughout the day. Also, Gettysburg Park Rangers and Licensed Battlefield Guides will be working with the Civil War Trust on a special "Generations Event," a walk across the fields of Pickett's Charge at Gettysburg National Military Park. Registration is required for the Generations event. Details about the Generations Event can be found on the
Civil War Trust website
. Junior Ranger Day events are free. The Gettysburg National Military Park Museum and Visitor Center is at 
1195 Baltimore Pike
 and is open daily 8 am until 6 pm. For more information contact 717/334-1124 or visit: 
www.nps.gov/gett
Eisenhower National Historic Site: Activities include the Junior Secret Service Agent program where kids can discover what it was like to be a Secret Service agent protecting President Eisenhower. Families will have the opportunity to join a park ranger for a guided walk highlighting the role that the Secret Service played on the Eisenhower Farm. Additionally, there will be a special station set up for kids and families to complete their Junior Secret Service booklets and receive their badges and certificates. The National Park Service preserves the home and farms of the Eisenhower family as a fitting and enduring memorial to the life, work, and times of General Dwight David Eisenhower, 34th president of the United States. Fee. Entrance to the site is by shuttle bus from the Gettysburg National Military Park 
Museum and Visitor Center
. Tickets for sale in the Visitor Center lobby throughout the day, 9 am - 4 pm. Plan 1 1/2 - 2 hours for your visit.
Last updated: September 24, 2020