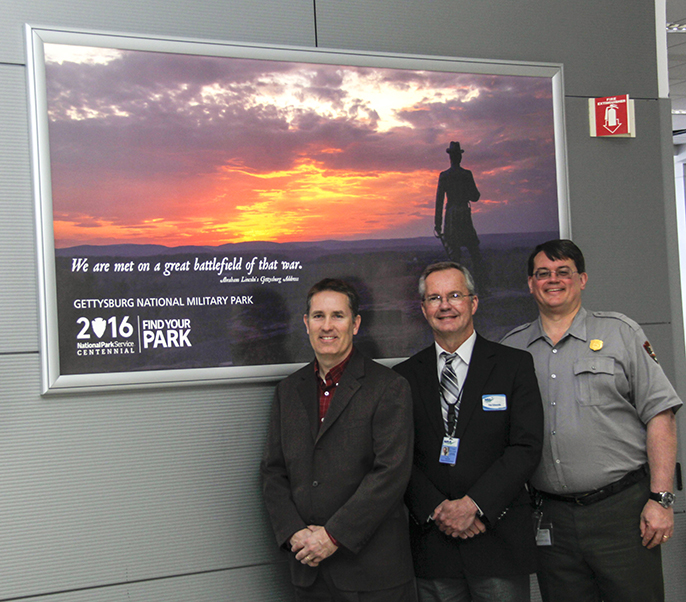 News Release Date:
April 4, 2016
Contact: Katie Lawhon, 717-338-4402
More than a million annual travelers who pass through Harrisburg International Airport are seeing display advertising for Gettysburg National Military Park and Eisenhower National Historic Site, thanks toa new collaboration between the National Park Service (NPS) and Harrisburg airport officials.
In the airport terminal, four donated ads highlight the Gettysburg battlefield and the Eisenhower farm –two of 
Pennsylvania's 18 National Park Service units
 - and call attention to the 
NPS Centennial
 which is being celebrated throughout 2016. Eisenhower National Historic Site is now planning additional promotional displays at the airport, including two cases of artifacts and possibly even a temporary loan of one of President Eisenhower's tractors. 
"This unique partnership is highlighting the national parks to travelers coming into Central Pennsylvania for the first time, and also gives us a chance to remind residents of the region that we're here," said Ed W. Clark, Superintendent of the Gettysburg and Eisenhower parks. "We want to remind Pennsylvanians of the travel destinations in their own backyard." 
"As business and leisure passengers travel to destinations around the world, this partnership with the National Park Service will highlight the significant role the Gettysburg region has played in our nation's history," said Timothy J. Edwards, Executive Director Harrisburg International Airport. "We hope to inspire local residents to visit the Gettysburg National Military Park and Eisenhower farm when they return home and visitors to schedule some extra time when in the Central Pennsylvania region." 
Gettysburg National Military Park
 is a unit of the National Park Service that preserves and protects the resources associated with the Battle of Gettysburg and the Soldiers' National Cemetery, and provides an understanding of the events that occurred there within the context of American history.  
Eisenhower National Historic Site
 preserves and interprets the home and farms of the Eisenhower family as a fitting and enduring memorial to the life, work, and times of General Dwight David Eisenhower, 34th president of the United States, and to the events of far-reaching importance that occurred on the property.