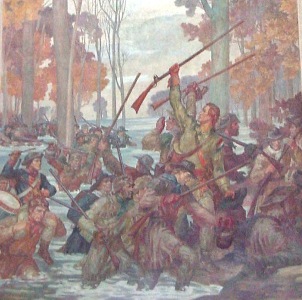 Staff at the George Rogers Clark National Historical Park (NHP) used an exceptional way to tell their park's story. In partnership with Kevin D. Watson of Vincennes University radio station WVUB (91.1 FM) and 26 students of Vincennes Rivet Middle/High School, park personnel created an innovative public service program for February.
February is an important month at the park. From Feb. 5 through Feb. 23, 1779, Col. George Rogers Clark marched 170 starving soldiers, at times through freezing floodwater, in order to attack British Fort Sackville in Vincennes. Surrender came Feb. 25. Without this strategic fort, US expansion north of the Ohio River would have been doubtful.
"Staying in Step with George" consists of 28 daily radio segments which present the Clark story in two-minute versions. Each reading features first person reports. The month-long series consists of segments matching the same dates as those of the march and siege. The voices of social studies students were recorded for the spots.
The broadcasts were a state-of-the-art means of enlightening listeners about Clark's crucial conquest. "Staying in Step with George" may be heard at wvubhd.com. Click on the Blazer logo to enter the main website. A link (George Rogers Clark "Staying in Step") is in the right column.
A written version of the daily accounts is available here.