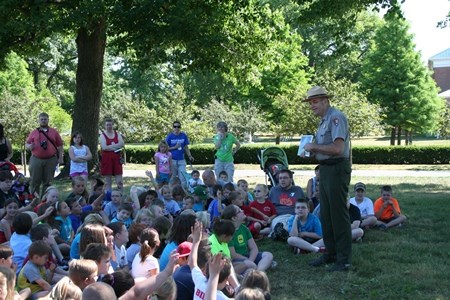 George Rogers Clark National Historical Park has been heavily involved in the National Park Service Director's Call to Action plan, which is to help the national parks continue their relevancy into the next century by developing a series of goals to be met by the NPS centennial in 2016. These elements have included reaching out to new constitutencies and helping the parks stay relevant in this generation.
George Rogers Clark NHP's recent partnership with the Knox County Public Library was featured in the Fall 2012 edition of the Call to Action newsletter for the Midwest Region, under Element 16 - Live and Learn.
The park's recent astronomy Junior Ranger Program was featured in the Winter 2012 edition of the newsletter under Element 27 - Starry, Starry, Night.
The park's Staying in Step with George was listed as another accomplishment in the Spring 2013 edition under Element 3 - History Lesson
The park continues on in the future to meet the Director's Call to Action. Stay tuned for further developments. Any questions about the park's accomplishments should be directed to Superintendent Frank Doughman at 812-882-1776 ext. 204.